Weight is up one pound this week. No surprises there. I have not been able to get a strong wheat-free (and related binge-free) streak going since the first week I started this experiment. Here's what happened on Friday: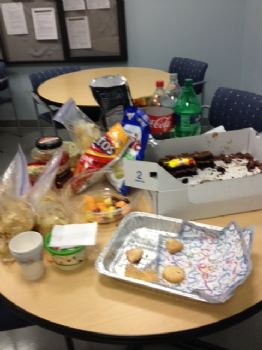 Actually, my downfall came even earlier than this when my boss came by my desk and suggested we go out to lunch. Now, I had packed myself a healthy, satisfying lunch with plenty of snack options - chicken, baby carrots, cottage cheese, pineapple slices. I usually bring my lunch every day when I go to the office; it helps me stick with a budget, create a meal plan that supports my nutritional goals, and - most importantly - I know exactly what I'm going to be eating. No wheat surprises.
However, given that I recently started this job and desperately want to build a good relationship with my supervisor, I automatically said yes. I was confident in my ability to go out to lunch and still make good choices.
She suggested a Tex-Mex restaurant not too far from the office, and I knew I was in trouble when they put chips on the table. Fresh, warm, fried tortilla chips and salsa. I can never say no to one... or twenty. I ignored the chips and focused on the menu, trying to determine what I would feel proud of myself at the end of the day for choosing, and feeling pretty good about settling on a Blackened Salmon salad with an herb vinaigrette dressing. But once our orders were taken, my boss began eating the chips. And then I began to worry that she would find it strange if I were not also eating chips.
(Yup. It sounds ridiculous to me now, also.)
So I figured it would be ok to eat a few. I was saved by the relatively quick delivery of our meals, but still continued to snack on the chips even after my salad came. When we returned to the office, I began rethinking my meal plan for the rest of the day, and figured that even though I'd need to start over with a new Wheat-Free Day 1, I could still maintain my Binge-Free streak.
And that's when I walked into the break room. Italian cookies in a wide range of colors and varieties. Chocolate cake with mountains of frosting. Stacy's Pita Chips. I ate it all. Ugh, it was such a fiasco. The whole time, that little voice was telling me I'd pay for it later (please get louder, prefrontal cortex):
How was I going to get my last training run after work - before my 10k (
https://wheatontrial.wor
dpress.com/2013/03/23/race
-report-run-from-winter-10k/
) - on a full, bloated belly? How was I going to fare during the actual race? How would I feel when I get on the scale this weekend and see those numbers taking me farther away from my goals? What about the years of anxiety, the skin/hair concerns, and all of the non-scale related issues I am hoping to finally conquer?
All these thoughts, yet none strong enough to stop me from eating this junk. The past is just that, though - and with my renewed strength coming out of my race yesterday, I'm ready to think a little bit differently. My new goal is 21 days - three weeks of remaining wheat-free. I know it will be difficult - but I also know that with each passing day, it will get easier. I know that if I fail to plan, I plan to fail. So here's my plan:
- Revisit this particular post when I'm feeling weak;
- Treat myself to some dessert tea; or
- Step out of the office and treat myself to something different - yet satisfying (like one of the carb/protein combinations that Dr. Peeke shared
https://wheatontrial.wor
dpress.com/2013/03/21/how-
a-cupcake-acts-like-cocaine/
).
Other ideas and suggestions welcome.