Sunday, March 24, 2013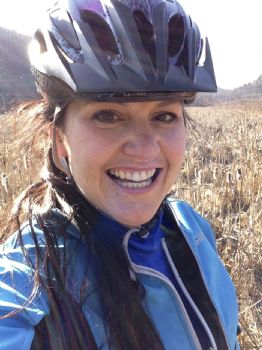 Someone in the universe loves me because the sun was out today!!! It was only 45 degrees out -but you can't have everything right? I actually wore my skiing clothes cycling :-)
Yup there I am in thermal pants, layered over biker shorts, layered over long underwear, and of course - my Swix spring ski jacket - not bad for biking because it has open zips over mesh to allow cooling off!
I will say the best thing about this picture: I like how my legs look (did I just say that?) I don't know if it is the left over euphoria endorphins - but I look strong...
The ride was through bucolic country roads in southern Pennsylvania. Went about 32 miles in 2 hours in 20 minutes, which is reasonable time for me, especially with some of the climbing. Despite the chilly air it was a lovely day with blue skies. Road past many farms with the horses, cows, goats, and lambs watching us curiously as we went by. I managed to ride about a mile off the handlebars (getting that core strong!) and hit >40mph for the first time ever. If I want to race I need to learn to get off the brakes so I have been practicing when on familiar hills.
The other thing I noticed is that I had less pedal fatigue than usual. Often, after about 20-25 miles in my clipless pedals I get sore on the part of my foot that sits on over the clip. This has limited the length of my rides in the past but today I didn't notice much of a problem. Maybe all that time in the trainer this winter is paying off after all! Would really like to do my first century ride this summer.
Hope all of you got some relief from the winter snow as well! It is supposed to stay cold here in WV this week, although next Saturday I am heading to Ghana, which will be about 105-120 degrees (from winter straight to summer). I would like to get in at least one more ride before then.