But I'm so glad my place is clean that I took a few pictures: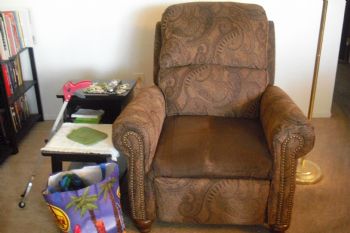 One of my favorite places -- my chair (with knitting bag beside it). I so love this chair, I just may forgive Ashley Furniture for the crummy service when I bought it and give them another chance the next time I need furniture. I may just have gotten one bad salesman.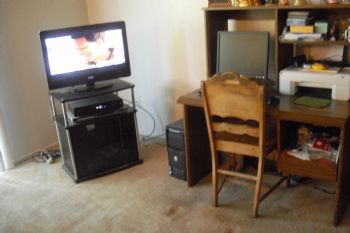 My "media center." Okay, it does need a bit of an upgrade. But that's a tax return or so down the road.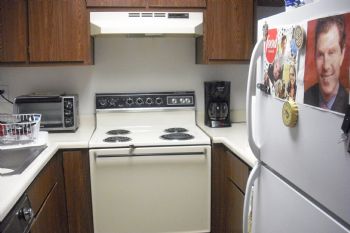 What passes for my kitchen. No counter space and the stove is no less than thirty years old. But hey...
I'm particularly proud of this afghan. It won a prize at the County Fair the year I made it. Okay, second place, but STILL.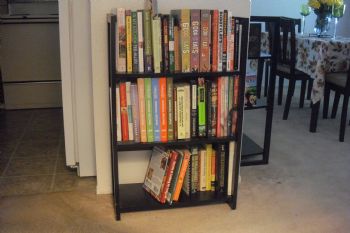 My cookbook case. That little space on the bottom shelf isn't going to stay empty for very long (I'm already planning to order new cookbooks from John Besh and Alex Guarnaschelli next month). Thank goodness I have a totally empty shelf in my DVD case, because I know right now I'm not going to stop collecting cookbooks anytime soon.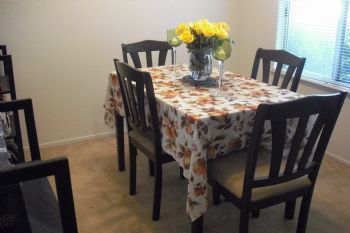 My dining room. There's an adorable story about those roses. I felt silly ordering them with my grocery order, but for a dozen roses the price was low so I went ahead and did. The website said they were orange but the picture said yellow, and yellow roses are my favorite flower of any. The delivery man actually made a little show of presenting them to me. And he was from Ireland, so he had a brogue I could listen to all month. He even asked me why I was at home and not out getting some sun and fresh air! I told him I'm working on a project I want to finish (which is the truth -- I want to see the finished afghan), but it could probably have waited half an hour or so.
After I ordered them I went to get a vase from the closet and discovered I only have two tiny vases, which wouldn't do for a dozen roses. Luckily I have a pretty cut-glass pitcher, which I put them in and it looks very nice (I think so, anyway). Memo to self -- vases are cheap at the craft store. Time to pick up a few.
The bedroom is "not ready for its closeup." It's getting an upgrade as soon as my tax refund gets here, with a new bed and new linens. I even have a couple of dresser scarves that need embroidering. I may do one of them next when I finish the afghan.
I feel more relaxed tonight than I have in ages. I'm watching TV and enjoying a big Fuji apple from my CSA (Fujis have replaced Golden Delicious as my favorite apple) along with a cold club soda. I thought I'd miss the alcohol a lot more than I do, so it's a pleasant surprise that the "bubble water," as my family called it, is satisfying me the way it is.
I may even have a peaceful sleep tonight.