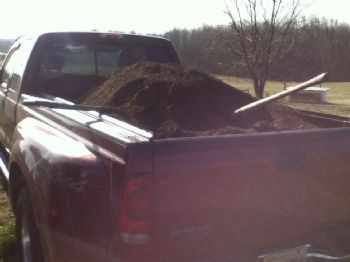 You'll have to forgive the quality of this image.
The camera on my iPod isn't that good and I didn't have my real camera handy.
This was my workout this morning.
I don't have a gym membership - I really don't need one here on the farm,
Especially for the 9 months of the year here that don't involve the icy cold winds, mud and muck and freezing rain of winter.
Don't hear what I'm not saying.
I don't have anything against gyms or gym memberships.
I just don't really need one here.
I heard someone the other day making the excuse that because they couldn't afford a gym membership they couldn't get fit.
Rubbish.
If you are holding this opinion it is HIGH TIME that you dispense with this excuse.
You don't need a gym membership.
Or expensive equipment like a treadmill or an elliptical.
Or special workout clothing.
Or diet foods.
Nope.
None of that is NECESSARY.
Nor is any of that SUFFICIENT.
You could go get a gym membership.
Buy an elliptical or a treadmill - or both!
You could buy a bunch of expensive workout clothing.
And some plan's diet food.
And you know what?
You could still FAIL to lose weight.
FAIL to get fit.
FAIL to become healthier.
Because it isn't about gyms and equipment and things like that.
It is about getting your BRAIN straightened out.
If you are obese the reason you are obese - short of the six of you who have some legitimate clinical reason - is that you have NEVER figured out how to control your food.
Your food has controlled YOU.
Food control is the KEY to losing weight and getting fit and becoming healthier.
Trust me - you can OUT EAT your exercise easily.
What IS required for you to lose weight, get fit and become healthier is to understand your triggers.
Work to create better habits to replace the CRAPPY ones you've got.
Like sitting in front of the TV with your bag of Cheetos and your bottle of Pepsi or Coke.
Like eating seconds.
Like eating food just because it is there.
Like stopping at the drive-thru to get your high calorie, high fat, high sodium breakfast/lunch/dinner meal.
Like sitting on your backside for hours on end each day, fiddle-farting around on the computer.
Stop that nonsense!
YOU can change your life.
The question, of course, is...
Will You?
Will you decide that your life matters more than that stupid bag of chips?
Will you decide that your life matters more than that half gallon of ice cream that you are eating out of?
Will you decide that your life matters more than the countless fast food meals you eat each month?
Or will you keep on doing the default thing and letting those burned-in brain programs that say things like "I'm just meant to be fat like my parents are." run the show?
It is TIME to get your life straight and start LIVING.
Don't like this post?
Tough.
You can surely find another that is more to your liking.
But if you are making excuses and avoiding the path of improvement and health...
YOU need to do something about that now.
Do you know that you are strong?
Strong enough to accomplish this?
You are MUCH MUCH stronger than you think you are.
Trust me.
I've felt like I couldn't do it and you know what?
That was just a lie I was telling myself.
Because it is easier to do NOTHING than SOMETHING.
You are strong enough to change your life.
But maybe you just haven't realized it yet.
It is time.
Time to start making better decisions.
Time to make new habits.
Time to create some RULES that you follow.
Don't like rules?
Too bad.
Because it is clear that NOT having rules doesn't work.
Today's the day.
Stop putting it off.
Decide to change your life.
Today.
Make it a great day!
Matt