Saturday, March 23, 2013
In the Spark Collage Challenge we are making an Easter Collage.
The idea is to find ways to resist or moderate the sugar and chocolate intake.
Not always easy to do around this time of year after all the shops are full of chocolate and cakes all promoting Easter.
I don't eat chocolate but I am tempted with things like Hot Cross Buns, various cakes and other sweet treats.
I am planning on having some of the things I like but adding a good selection of healthy things like a nice fresh fruit salad for dessert on Easter Sunday.
So I made this Collage to remind myself of Moderation is the Key and Portion Control.
I have made it small enough to be added to a folder I am making to keep my collages in so I will have them for future reminders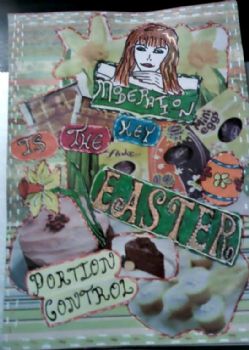 I have used rubber stamps that I had, cut out images and used various pens to colour and add interest to the collage. It looks brighter in reality than in the picture.