Saturday, March 23, 2013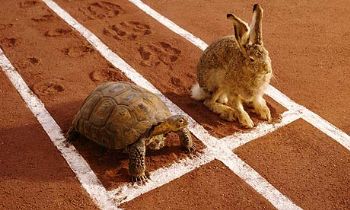 I guess I'm going to be like the tortoise, slow and steady :-) I've lost 8 lbs since re-joining 2/6/2013. I am extremely happy with that result. My sister, "the hare", had the "sleeve" surgery on 1/29 and has lost 50lbs already. I have lost 8 lbs on my own without surgery and I'm proud of that fact however, I am really dreading being the biggie alone now. My sister and I have both been big ladies for the majority of our adult lives. I know it's going to be a much longer road to get the body and reach the healthy state that I want for myself than my sister's road is. I keep thinking about the "Tortoise and the Hare" and remind myself that slow and steady wins the race and I didn't have to give up eating normal to do it.
I just pre-ordered "The Spark Solution" and I'm really looking forward to it's arrival and starting the two-week plan toward a much healthier me.
Until Next Time,
TNSassafras