IF THAT ISN'T LOVE - a Lenten Hymn
(Words & music by Dottie Rambo)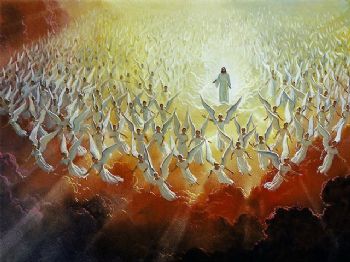 IF THAT ISN'T LOVE
He left the splendor of heaven
Knowing His destiny
Was the lonely hill of Golgotha
There to lay down His life for me
If that isn't Love
The ocean is dry
There's no stars in the sky
And the sparrow can't fly
If that isn't Love
Then heaven's a myth
There's no feeling like this
If that isn't love
Even in death He remembered
The thief hanging by His side
He spoke with love and compassion
Then He took him to paradise
If that isn't Love
The ocean is dry
There's no stars in the sky
And the sparrow can't fly
If that isn't Love
Then heaven's a myth
There's no feeling like this
If that isn't love
-------
SCRIPTURE: John 6:38-39 For I have come down from heaven not to do My
will - but to do the will of Him who sent Me. And this is the will of
Him Who sent Me, that I shall lose none of all those He has given Me,
but raise them up at the last day. John 3:17 For God did not send His
Son into the world to condemn the world, but to save the world through Him.
PRAYER: Father God, we barely can comprehend the love that sent Your
only begotten Son to earth, in agreement with Him and He with You, to save
fallen man. Such love is beyond our human love, yet we experience this
love every day of our lives, as we fellowship with you. Our hearts respond
to Your love and more and more our hearts expand, as You fill them,
so we are made able to truly love You in return. This is an all- encompasing,
pure and holy love that floods us with joy...so much joy that at times we
think we can take no more! But one day in our new and glorious bodies,
such bliss as we only know now in part, shall we be enabled to totally
experience, when we are present with You, Father, Son and Spirit, in Heaven.
Until then with joy we shall go on, eager for the moment we shall see Jesus,
and be literally led, clothed in His righteousness and washed in His blood,
into the throne room of Almighty God. We shall dwell with God forever; just
imagine! Glory to God! In Jesus precious Name we pray and believe, amen.
==========

LISTEN to this Hymn on YOUTUBE: ELVIS + LYRICS
youtu.be/2OjzAmJR
2H4
SOURCE: http://www.lyricsmania.com/if_
that_isnt_love_lyrics_dott
ie_rambo.html
=====================