Here's a rare moment - Me sitting on my patio, not doing anything at all.....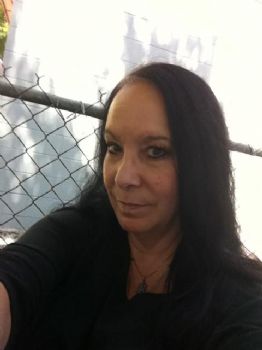 Good grief! Monday, I come home from work and find my new Mantis tiller on my porch, just waiting to be assembled. And assemble I did! Despite the sucky directions - No gas for it, and too dark to test it out anyway, but it's all together: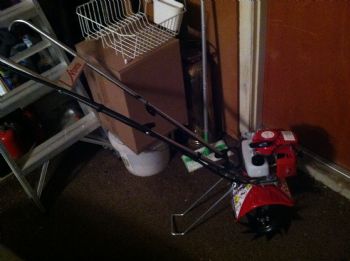 Isn't this just the cutest little machine?!! And it only weighs 20 lbs, but it will chew up some dirt!
Tuesday, I went to Lowe's after work and bought a string-trimmer refill, a 1 gallon gas can, and this cool, little gem: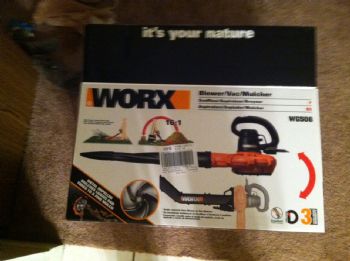 I can't begin to tell you how much I love this little Blower/Vac/Mulcher - Remember, I have two huge camphor trees in my yard, and they constantly drop leaves. This thing has now made my patio and front porch neat and leaf-free for the first time in ages! Awesome!
And lets not forget the tiller. Wednesday, I put the border/edger attachment on my Mantis and edged my front walkway, driveway and front curb, and yesterday, I spent two hours raking, blowing, vacuuming and mulching leaves....Whew! That was a whirlpool bath night, I can assure you!
So tonight, I come home and find a large package on my front porch - The composter I had ordered and expected to arrive on Monday came in!! Woohoo!! So I started some whole-wheat pizza dough for homemade pizza (has to rise twice - first for 1 hour; 2nd 1/2 hour), and put the composter together. Instead of using an old-fashioned, smelly compost bin, I now have a "Spin-Bin" - It's a fully contained, 60 gallon composter that makes compost faster than the old-fashioned bin, doesn't smell, and is not accessible to "varmints" - No, I don't mean my ex BF! I mean smaller rats, raccoons, 'possums..........So tomorrow, I'll start layering leaves, lawn clippings, and kitchen waste (vegetation only!) into this thing, and in about 6 weeks, voila!! Compost! Gardener's Black Gold!! Woohoo.
Yes, I know - I'm completely off my rocker. But I plan to have one beautiful garden and yard this year. My handyman, Tommy, is fencing off the garden area tomorrow, and weather permitting, I will start preparing my garden.
It's supposed to rain in the afternoon, so my plan is to do some sewing when the rain sets in. I promised a friend I'd make him a Cherokee ribbon shirt to wear to the next Powwow. I've got the material prepped - Just have to cut it out and get it done. Lot's of ribbon work on this one - Four directions colors - I'll be sure and take a picture of it when I'm finished.
Well, my friends - Happy Harriet has much to do tomorrow. Time for me to hit the sack. TTFN!