Friday, March 22, 2013
A simple young man is encouraged to broaden his knowledge by learning how to parachute. After a few lessons it's time for his first jump, so that afternoon he and his instructor go up in a plane.
The instructor tells the man not to worry because he'll jump straight after him.
So the man jumps out, pulls his rip cord and heads gently for earth.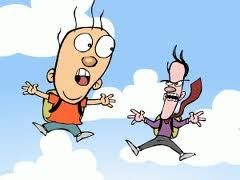 A moment later the instructor jumps out but when he pulls his rip cord nothing happens and within seconds he passes his pupil and plummets to earth at an amazing speed.
"Oh no you don't," says the young man on seeing his instructor race pass.
"You didn't tell me it was a race."
At that, he undoes his parachute and shouts gleefully, "Last one home is a sissy."