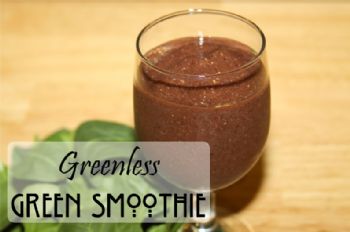 Green smoothies are a great, great, GREAT way to get your veggies. Vegetables are not only delicious, but they are chock full of health benefits as well. Most vegetables are naturally low in fat and none have cholesterol. They are important sources of many nutrients, including potassium, dietary fiber, folic acid, and vitamins A and C. And might I remind you:
When the body gets what it needs, it heals itself.
I recommend drinking at least one green drink a day. By just implementing this simple change, you will notice drastic results in your health.
This particular green smoothie isn't like anything you've ever seen. It isn't, um, well, green. And yet it is. ;)
The Greenless Green Smoothie
Serves 2
1-2 handfuls baby spinach
1/2 cup mango, frozen
1 cup mixed berries, frozen
1 tablespoon coconut oil
1 banana, peeled (LOL)
1 cup water
ice (optional)
For this smoothie, and ANY smoothie, I will be using my favorite kitchen appliance eva!...the VitaMix.
1. Start with the water and spinach. I used two handfuls because I love it. ;)
2. Next, add the frozen fruit.
3. And now for the coconut oil. This is so important because it helps with blood sugar control, as well as increasing metabolism, energy and endurance. Plus..it's yummy.
4. Add the banana.
5. And finally the ice...if you want. I like a really cold smoothie, so I add about six ice cubes.
Simply delish.
For a picture tutorial on how to make this smoothie, go to
www.xtremewellness.net/t
he-greenless-green-smoothi
e-recipe
Much Love,
Jen