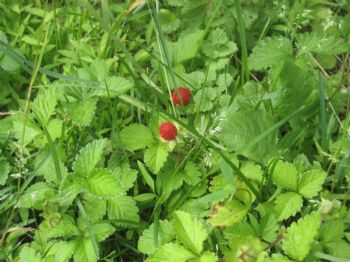 Our miniature dachshund is about 10 years old and she's been blind for a couple of years. We don't know why she went blind. We noticed she was bumping into things but didn't really think about it - she was "middle-aged", maybe her vision was dimming? And she'd always been a bit clumsy anyways. It didn't really hit me that she couldn't see *at all* until one day, a couple of days before Christmas, I put a dish of tuna juice on the floor, right in front of her, and she couldn't find it.
We had a whole bunch of blood work done and nothing came up - no cancer, no diabetes, no infection, nothing that would trigger any caution otherwise. She was just blind. The vet said we could have her evaluated in the Big City at a cost of $1500 (!!!). That wouldn't include treatment, just the evaluation. It was an easy choice ($1500!!!) and a hard choice (she's blind!!!) at the same time. But it would've meant leaving her at the clinic for a few days and making two six-hour round trips, two days vacation lost, not to mention $1500!!! Just to see IF they could do anything - and the vet didn't make any promises.
So we declined the further evaluation (keeping an eye on her blood-work for a few months, just in case) and carried on.
I never knew dogs could be depressed - but that's what happened. For several months she didn't wag her tail. Not once. Not even when "dad" came home from work. She would wander into the kitchen to greet him, and just stand there. Jingly toys were ignored. Squeakers and other sound-makers: not interested. Playing games of sniff-to-find-the-kibble were OK but still her tail stayed glued down.
This went on for several months - we tried everything we could think of, and nothing helped. She was not the same dog.
And then something almost magical happened.
Because she's blind we can no longer let her run around the yard loose; if she hears a squirrel she wants to run after it, but ends up running into the garage wall, or the fence, or the car, or the house. It's painful to see. And she could run into the street - we have to keep her on her rope.
But we got into the habit of walking around the entire yard together each morning, checking the garden. And one morning in June she discovered something in the grass:
Strawberries.
Little tiny, wild strawberries. Some not even as large as a pencil eraser. But she could smell them! And the tail started to wag as she snuffled through the grass. The more she found, the more that tail came up, til it was just one perpetual motion machine - snuffle, snort, chomp, wag...snuffle, scrummage, chomp, wag.
Six months it had taken for her to find her wag. And it all came back when she found strawberries in the grass!
That moment has stuck with me as a lesson because there are so many times when I've been walking in the darkness of depression or guilt or stubbornness, unable (or unwilling!) to enjoy what's right in front of me and God has brought something small into my life. A gentle nudge from Him - it might be a Scripture verse, a note from hubby, a phone call from a friend, or a hug, that wakes me up and makes me realize He's there and He cares and well, just get over yourself and move on! There's no fireworks, it's just some little thing that softens my heart and makes me realize I need to put aside my issue (whatever it is) and focus on Him.
Just like my little blind dachshund, I can be joyful where I am, despite whatever I have to deal with.
Ps. 35:9 And my soul shall be joyful in the LORD: it shall rejoice in his salvation.