Well, I am very happy to report that Thursday was another awesome day for me!
I stayed within my calorie range of 1270-1620, with 1597.
This is one thing I"m pretty happy about because we got pizza from Little Ceasars last night and I had some but I still didn't go over my calories! Victory!
I got 48 minutes of fitness in. Did T-Tapp with my mom, walked to the bank for work, and I did day 2 of the SP Rookie Running Program on the treadmill.
Thanks to all my hard work so far this week I have lost 3lbs! Woot! Woot!
I am very happy right now. Happy that I'm really sticking with it this time around.
Some other victories for me came this morning (Friday), I really didn't want to get up to workout with my mom and I knew if I told her I didn't want to she would say ok and go back to bed but I forced myself to get up and do it. I'm glad I did.
Then on the way into work I kept thinking about stopping at McDonald's for a Bacon, egg, and cheese bagel (my favorite). I resisted, I kept telling myself you know you will be mad at yourself after you eat, you don't want to ruin all your hard work, and it probably won't taste as good as you think. So I didn't go and get one, I got to work and made two slices of toast with peanut butter.
I'm feeling really good about today! Looking forward to another awesome day!
Oh! I almost forgot I finished my bouquet for my wedding. This picture doesn't do it justice but I can't seem to take one that does so it'll have to work. :)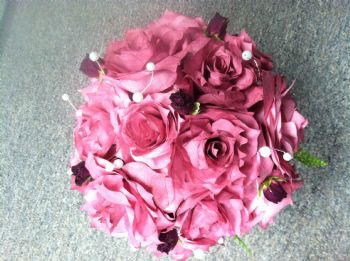 The bouquet is made out of coffee filters. I found a template for making coffee filter roses on Martha Stewart's website. The tiny dark flowers are tiny dried roses from the flowers Dan sent me after our first date.