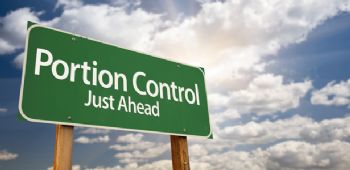 Oh, I know sooooo much about portion control. I've learned how to eyeball something and tell you pretty accurately how much it is. But once I've done that, I'm always tempted to add a little more ... or a lot more! So, portion control seems to always be "just ahead" ... I never seem to catch up to it!
Until recently. I ordered a subscription to a meal service. I love it! I drop by a little store twice a week and pick up my meals. The food is healthy and delicious. I subscribe to a 400 calorie per meal plan. Last night, I looked at the container. SERIOUSLY!? THAT is 400 calories? I checked the accompanying nutritional info. Nope ... 410 calories. OK, on average the calories are 400 ... the meals range from 370 to 410 calories. All the same, there really didn't seem to be ENOUGH food there to be 410 calories.
I removed the food to a lovely china bowl and rewarmed it. It was the most delicious black turtle bean soup with a grated cheddar cheese topping. I warmed the yummy confetti cornbread side that came with it. I sat down to eat. My meal was ever so delicious!
As I ate, I realized that for years, my thinking goes like this ...
I want the figure with the little waist ... but I want to eat the extra large chocolate bar. I sat about to determine what's wrong with my thinking. Why does my head think that this big ole candy bar might be a portion?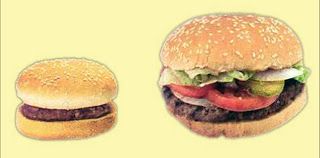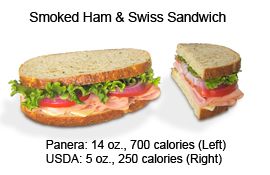 Do you see what I see? I have, over the years, mentally become accustomed to these larger serving sizes and think that I must have them in order to be satisfied. And if I do have them, I will no longer have a definable waist. So which do I want ... an hourglass figure or a super-sized diet? The choice is mine.
Which plate contains the most food?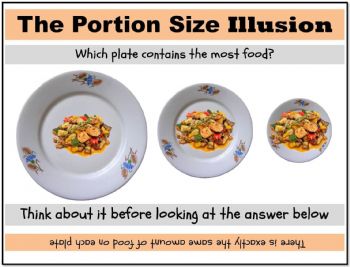 Can you tell just by looking? Check it out, then scroll down for the answer.
.
.
There is exactly the same amount of food on each plate. Makes me want to use my smaller plates & bowls and convince my mind that my portion is JUST the right size!