I make a lot of plans, schedules, and goals only to get two weeks in, see the next best thing and start to doubt everything. I cannot tell you how many times I have started and stopped Insanity in the past 2 years. While I enjoy the butt kicking Shaun T gives me, I always wonder if I should be doing something else - lifting weights, running, etc.
A month ago I won a certificate for 3 personal training sessions with a trainer down the street from my work. I had my first session this week. This wasn't even a training session - it was a test - and it kicked my butt

. I REALLY like the guy, but at $50 a session, there is no way I will be able to stay on with him after my gift certificate is complete.
I must say I really did not expect to hear what he told me. His recommendation for me is short drill exercises to help build my endurance. He did not recommend weights, but to start building my strength with my own body weight. Ummm.....did he just recommend Insanity? Of course not, I should hire him instead. But if I can't afford him, then Insanity really is the next best thing for me.
So I am now more determined than ever to complete this program. The wedding is 7 weeks away, so I am using that as my goal date to finish the program (I'm already on Week 2). The only thing is I MUST get my nutrition under control. These workouts are nothing if I continue to eat junk.
I took some before photos of me in the dress. I love this dress and I want to look really good in it. My son said I looked beautiful and my daughter said I needed to twirl in my princess dress.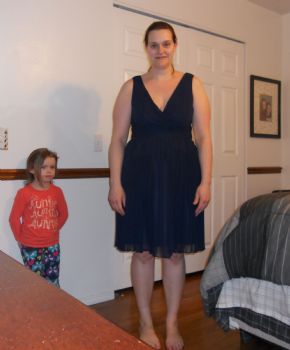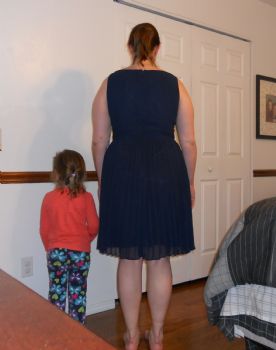 She is too cute! She wanted to pose for the pictures with me.
I have a variety of events coming up where I will have to plan ahead - work lunches, birthday parties, bridal showers, and Easter. Luckily the girl scout cookies are gone and hopefully we don't get anymore.