Yosemite Vacation Photo
Thursday, March 21, 2013
Good morning SparkFriends!!
Phil and I are on vacation in Yosemite National Park. We flew into San Francisco Saturday, spent the night there then drove over to Yosemite on Sunday. We are staying at the Lodge at Yosemite Falls and are having a wonderful time hiking and sightseeing.
As many of you know, since retiring 4-1/2 years ago Phil has really begun to take his hobby of photography very seriously. Like many photographers, one of his goals (hopes, dreams?) was to get 'the photo' while here. He feels like this one may be 'it' so I thought I'd share it with you.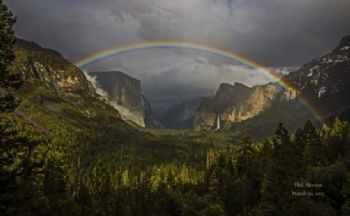 I hope everyone is having a great week - for those of you in the frozen north I hope spring TRULY arrives soon!! Take care, Marilyn