How are you doing this fine day?
Me?
Well, I'm doing my best to make it a great day.
Thanks for asking!
So, this post is about monkey bars.
No, not these monkey bars: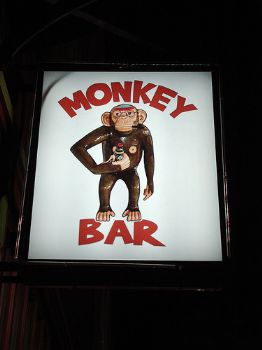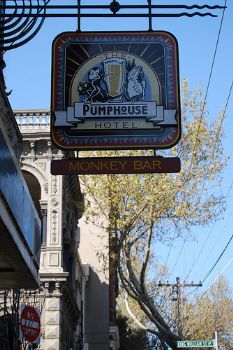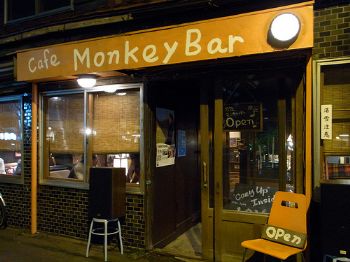 I'm talking about these:
So, to refresh your memory - or if you are a present-day American teenager who spends 103% of their time texting and fiddle-farting around with electronics and might never have been to a playground before (kidding, of course, or am I?) then let me catch you up to speed on how monkey bars work.
They don't.
They just sit there, planted in the ground, waiting for someone to come along and try to... well, monkey across them.
Something like this: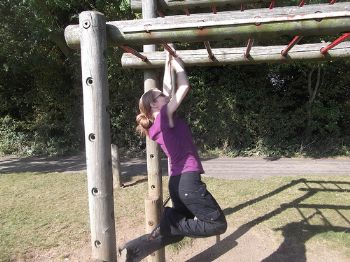 (Yes, they can be made partially of wood too!)
The idea is that you start at one end and work your way across the monkey bars one hand at a time.
You could grab every bar like this lovely lady: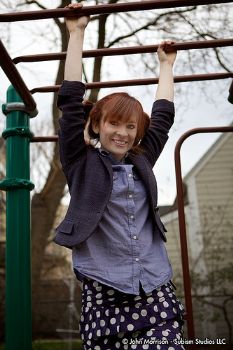 Or every other bar: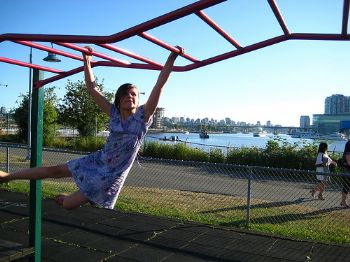 But the goal is the same regardless...
To make it across the monkey bars.
I was thinking about monkey bars a bit and how really they are a metaphor for change in ones life.
You are at some point.
Perhaps it is a place you don't really want to be.
Perhaps it is life as an obese person.
And before you is this pathway to somewhere else.
Perhaps it is a place where you would like to be.
Perhaps it is life at a healthy weight.
But to get there, you're going to have to work at it.
That's why I don't like the "wagon" or the "horse" as the metaphor.
Because the wagon is easy to sit on.
It takes no effort to sit.
And the horse... well, unless it is an unbroken one.
Or a feisty stallion who would really like to put you on the ground...
Well, the horse is doing most of the work there.
So, I'm not much a a fan of either of those.
But I love the monkey bars metaphor.
Because to make any progress across the monkey bars you're going to have to reach forward toward what's ahead of you.
And ultimately you are going to have to let go of where you were to move forward.
And it will help if you have some momentum.
And keep working at it.
Because if you STOP.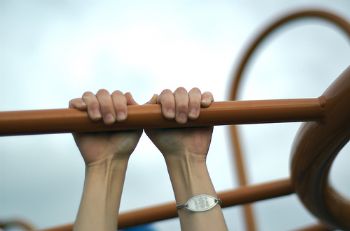 Soon enough you will start to lose your grip.
And fall.
And it is pretty tough to start from that point.
You can try to jump up and continue.
But it is tough.
And you've likely lost your forward momentum.
So you eventually find yourself back where you started.
And try again... perhaps.
Not that much different than weight loss and fitness, huh?
You've first got to decide to start.
Then figure out how to get there from where you are.
And then start moving forward.
But then there's where you've been...
Hanging onto old ways.
Eating to excess.
Eating poorly.
Making excuses.
Blaming your circumstances.
Blaming others.
Avoiding accountability.
You've had a death grip on the past
Well, you've got to let go of those things if you are going to make progress.
You've got to be reaching forward toward your goals.
You can't live like your were AND reach your goals.
Do you understand why?
The monkey bars as a metaphor works well because it requires work on your part.
You don't get across the monkey bars without working at it.
And you don't lose weight - and KEEP it off without working at it.
Time and time again I read about folks looking for the easy way.
10 second abs.
Idiotic things like "juice fasts" - I DARE you to put up a convincing argument that a juice fast is a sound mechanism for becoming healthy.
Silly exercise gadgets.
Surgery.
Fad diets.
None of that works really on its own.
None of it.
What works is a change in your thinking.
And hard work.
And dedication.
And keeping at it.
Eight times in the last 25 years I've attempted to lose weight using this diet or that one.
And each time I had some momentum - I was moving across my metaphoric monkey bars.
And then at some point I lost the momentum.
And stalled.
And fell.
And couldn't get back up and keep going.
And I found myself starting over...
And quite honestly, after you start making progress and then stall and fall and find yourself having to start again after re-gaining all or most (or even more!) of the weight...
it is quite frustrating.
So how do we make it across our monkey bars?
I think it helps to do the following:
1. Have a plan. You're likely to fail if you don't have one.
2. Anticipate the trouble spots and difficulties you will likely encounter. There WILL BE problems. Don't be naive.
3. Start off at a reasonable pace - one that you can maintain. LOTS of folks start off strong with big goals and dreams... and a couple of weeks later they have abandoned them.
4. Don't give up! Like crossing the monkey bars, you've got to keep moving forward. Stopping makes it VERY difficult to restart.
So hang in there and keep swinging forward to your goals!
Make it a great day!
Matt
[Images used under Creative Commons License. Much thanks to John Kanneberg, matt.davis, vinarae, plasticrevolver, Matt from London, reallocalcelebrity, concrete_jungler101, and NontrivialMatt for the use of their images.]