I'm going to start this one off with the warning that it's really long. And you might not care. And that's okay. :) I'm starting to develop passions am enjoying processing through the lens of pregnancy.
How far along?
33 weeks! I've been saying 33 and a third for the last few days- but I cannot for the life of me remember what movie or TV show that's from! Infuriating! Baby is gigantic, and is pushing on my belly as if he wants more space. Yesterday, he was using his shoulder to stab me under my belly and it hurt! I pondered if I was having contractions since they would come and go, but after feeling my belly realised it's just the kid being a monster.
I never really realised how much I took my own mother for granted until I became pregnant. Holy crap, this is for realz.
Weight Gain
My weight has stabalised at 3 kilos (7 pounds) up from pre-pregnancy weight. If your keeping track, yes, I've lost weight in my third trimester. No it's not normal. No, it's not a concern. I'm healthy, strong, and my baby is obviously getting all that he needs given his size :)
Sleep
Last night I slept through the night getting up only 3 times. This is a success. The other nights I just laid there getting irritated with life.
Belly button in or out?
Still flat. :( I want it to pop out SO bad!
Week recap:
I went to the midwife for the last time until I'm term on Saturday. She said I COULD come in next Saturday, and I have a list of things to watch out for, but since I have ZERO swelling, and am handling pregnancy well, she doesn't need to see me until April. My mind was blown!
Baby is measuring a week and a half ahead, as always. I still wonder if he'll come early because of this. You would think with all my tracking and whatnot I would know what day we conceived, but I don't. It's all just fun and games while I wait for him to arrive.
Our birthing class got VERY interesting last night. It's operated out of a hospital, and I chose this one mostly because it was cheap and I'm broke. The leader is a midwife, and I was very open with her that I wanted an active, unmedicated vaginal delivery (I didn't say "normal" because I'm tired of women always being berated for being normal or abnormal based on their choices or actions). She completely understood and warned me that there was quite a lot of information about c-sections because of the high c-section rate in SA.
Please, let me preface what I am about to say with the following: I am thankful that c-sections exist. I am incredibly thankful for doctors. I believe first in the idea that birth is a beautiful life changing thing, no matter what process or journey taken, and second that no journey is better than the other.
But what makes me angry is when people don't know. When doctors use fear to control their patients, it grates my nerves.
South Africa's cesarean rate is nearly 80%. This is not just in private hospitals like I previously thought. No. This is across the poor communities (where elective c-sections are not covered) and the rich. The World Health Organisation recommends nothing higher than a 15% c-section rate. There is obviously something very broken about the way that South Africans treat birth, and that both frightens and saddens me deeply.
At my birthing class, yesterday I learned I was the only woman planning an unmedicated labour in class. The majority of women were already booked in for an elective c-section. This wouldn't bother me, except that their reasonings were "It's easier". There are serious risks of cesareans, but none of these girls knew what any of them were. Worse still, most of their partners were glad they were having a c-section because they wouldn't have to worry about losing muscle tone, or missing too much work, or because the birth process was faster. The fact that maternal death risk doubles in a c-section wasn't on their radar.
The midwife told me when I was interviewing her, that she is not an advocate of c-sections, and prefers unmedicated births for mammas because of the inherent benefits of this choice. However, her notes were provided by the hospital, and she had to join the throws of the c-section bandwagon. She stated that most women cannot give birth vaginally because their bodies are not the correct shape. Not only is this completely illogical (if the majority of women's bodies were the wrong shape to birth humans would have died out long ago), but is completely untrue.
She had a laundry list of all the reasons that a c-section may occur and even hinted that it might just be easier to have the cesear to avoid a 12 hour labour and an emergency section! I was really shocked and outraged. This is not educating women! It's scaring them!
There is no wonder SA's c-section rate is nearly 80%- doctors want the birth to go absolute perfectly and they suggest nothing to try and help things go smoothly. For example we spoke a lot about hip size and shape. According to the hospital notes one of the most often stated reasons that moms need a c-section is CPD. This is Cephalopelvic Disproportion - when the baby's head is too big to fit through the momma's pelvis. In other words, the mamma's body is not the right size or shape. (side note: boo on the medical community for this inferred guilt and inferiority!)
It can happen if the momma has diabetes, or if there is a genetic problem. Worldwide, this can happen to 2% of women.
Trouble is, that in a birth, if the baby isn't "cooperating" , CPD is the diagnosis that is tossed out, and an emergency c-section is performed. But according to the midwifery association, the UK medical association and the Australian medical association, the baby's angle is more important that the mom's hip size. Of course angle is "adjustable" with activity and exercises in pregnancy and often even in labour itself.
Sadly, South African doctors encourage pregnant women to rest and relax (exercise was never once discussed with my OB) and wait for the big day. During labour, moms are strapped to the bed with her legs in stirrups and forced to labour on her back. Neither of these suggestions are conducive to good birthing angles.
And this is what makes me sad and angry. Women just blindly trust their doctors. They don't bother to research or to ask the tough questions. Doctors are completely taking advantage of this blind trust by recommending elective c-sections to anyone (because you'll probably need one anyway).
My good friend was pregnant last year. She went to see an OB/GYN who told her to not ask any questions because he would email her a list of FAQs. If her questions were not on the FAQs, then she could ask at the next appointment. In this letter she understood that she would be cut just 3 cm in the procedure and that it was quick and painless. She misunderstood, because after her surgery her cut ran nearly from hip bone to hip bone. She was appalled at how big it was! But what can she do now?
Labour hurts, and women are told they can't make it so they quit before the starting line.
It makes me sad that most South African women are robbed of the opportunity to try to labour naturally because they are afraid that they aren't "good enough" or "strong enough" to deliver. I don't classify myself as a feminist, but it really breaks my heart that the medical community (made up of mostly men) have robbed women of the very experience that is completely unique to women. They don't understand it, so they try and control it. This control completely makes the woman obsolete in the process of giving birth.
Yes, we need interventions sometimes. I am so thankful that should something go wrong I have a theatre next to my room at the hospital I'm birthing at that can save my baby and my life if needed. I'm not condemning anyone who has had or will have a c-section. I could very well be that woman! But the idea that we cannot do it because there is something wrong with us is a very wrong, very sad idea that will influence the way we look at women for generations.
I am praying that my birthing experience will be an empowering experience. One where I trust my body, and my body does what it needs to do. That's my birth plan. To trust my body, and trust that she knows what to do. If that means pain meds, fine, if it means giving it my best go and having a c-section (ugh!) fine. But it must be an experience where I am empowered and strong.
Looking Forward to?
I'm finally getting my rocking chair! This week is going to be a tough one at work, and I'm trying to look at the bright side of all the things tossed my way right now.
I did get up some art I drew in the nursery - it's a crappy pic taken with my Blackbery (why do I own a blackberry?!) but it fills me with joy.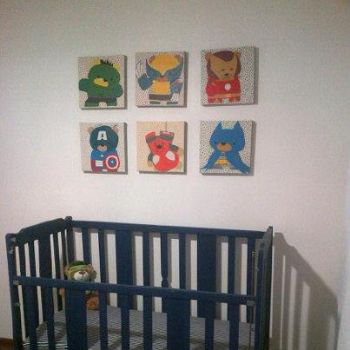 I am still making a teething bar for the rails and my mom is making him a quilt. Rather, I'm dreaming up the teething bar, and my mom will sew it for me. I'm terrible with fabric!
In just 3 weeks I'll be getting the clearance from a low risk OB that I am indeed low risk and can give birth in water if I so desire. I'm starting to get a wee bit nervous, but in that excited sort of way :)
And just to bring this full circle, I wish you all an empowering day. Don't let anyone or anything take away the power that you have! You are strong, capable and inspiring and can do any task you set your mind to.