Lucky Green 5K
March 16th, 2013
To give you a glimpse of how crappy the weather was..

Brr. To make matters worse, we had freezing rain during the night.
I immediately woke up Saturday to check the weather. Felt like a kid who was checking for a snow day! LOL. Thankfully I had everything laid out and ready to go the night before, so I just had to shower, eat, and settle my stomach. Oh, and get my brother up. This was his 3rd 5K, but the first one that wasn't a mud run of some sort. He CRAWLED, out of bed literally, and we were ready to head out. Of course my outfit had to consist of loud green, as you will see in pics. I had to beg Tom to put more clothes on! SO he wore one of my running long sleeve shirts underneath, glad I have them in every single color. :)
We got to the start, and thankfully had a building to hide in for a while. It was this very cute kids store I've never been to, and of course we were parked right next to the candy section. They had Zotz! I haven't seen those in forever. I really wanted to get some to put in my pants pocket, but that thing was already shoved with cough drops. Oh, didn't I mention I had a chest cold going on too? PARTY!
We headed out to the start, behind the building. I didn't get a good look, but pretty sure there was only about 60-70 people there. Such a small number, but I am assuming a lot backed out due to the weather. The race director informed us that they were not giving out awards due to the weather. He said they smothered the trails in ice melt too, hoping to help. So, gift cards were free game! They planned to hand them out to random people crossing the finish line.
Everyone grouped together, probably just to save body heat, but then we were off. Happened so fast, i wasn't able to set the run keeper on my phone. Sad face. I really wanted to try that out, but I guess next time. Immediately, we ran into major ice. Oh crap. They weren't lying about the ice everywhere. My nike frees are great for running, but their ability to have traction is less the par. Right there I knew that goal A is out the door!
About half a mile into it, my shoes decided to come uptied. REALLY?! I was less then happy. And to make matters worse, it was right on a bridge with a crap ton of traffic. After pulling over to the side and tie. By then, I was last. Literally, every runner had zumed by me and I become last. Enter another sad face. I know I shouldn't complain about being last, but it stinks, totally lowers my self confidence and makes me feel like I shouldn't be there. But I do get over it.
We kept moving alother the path, that you have to go under alot of bridges and roads. This is where most of the ice was. I'm talking ones that could have sunk the Titantic again. Why they thought that they should go ahead with this race is behind me, but I just waddled through it, best of my ability. Soon I caught up to my brother, apparently he is more out of shape then he thought and was already hurting.
We talked before the race that if one of us needs to go faster, we can leave the other one behind. Normally, I thought he would of been the one to pass me, so I was surprised. I could gone alot faster, but I just couldn't leave my brother. His first normal 5K and he would be alone? No way. I am sure he wouldn't have cared, but I did! So I stayed with him, just a bit farther ahead, yelling out encouragements and telling him to speed it up!
We finally got around the half way point, and my body was iching to MOVE! But I stayed back. We finally did pick up the pace a bit, but still way behind, until we ran into walkers! Didn't even know people where walking the 5K, but we found them and weren't last! You don't even know how excited I was!
We were to the homestretch, probably a mile away and our bodies were feeling it. Tom had snot frozen in his facial hair, I could no longer feel my toes, or thighs, which I thought of as a good thing. We decided to push it, and finish, but my god, we ran into a wind tunnel. BRRR! Lots of cuss words came out of our mouths at this time.
We could see the finish, and Tom started to sprint. Now, don't get me run, I love my brother to pieces, but I refused to be beat by him. I am the 'runner' in the fam, not him! And heck, I had alot left in me! So i flew by him and crossed the finish line, he can in right after me.
I came in at 44:30. Wow, not good at all, my slowest 5K to date, and no where near my goals. BUT - considering the weather, my brother, and the ability to not feel bits of my body, I will take it! Heck, no many people run 5K's in single digit weather!
Remember those gift cards?? We both got one, score! Not sure how much money is even on them, but I don't care. A gift card is a gift card.
Here are the pics!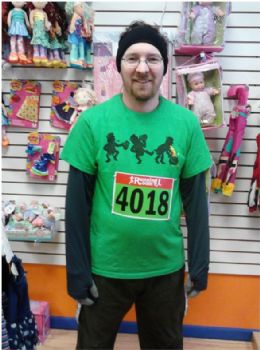 AFTER!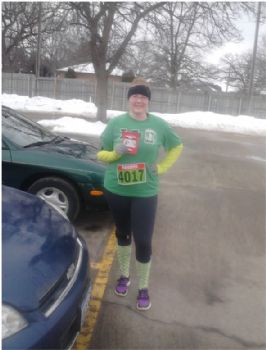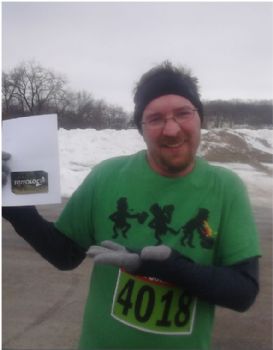 Me, taking pics on bathroom and dressing room mirrors..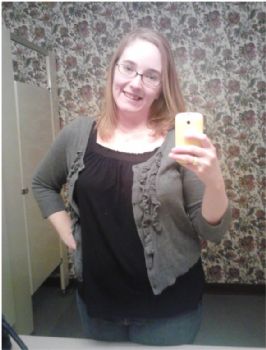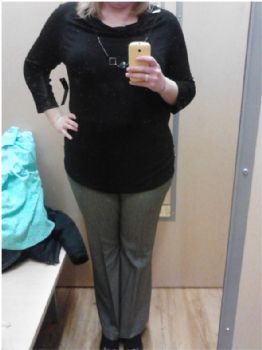 And my kitties because I am obsessed with them.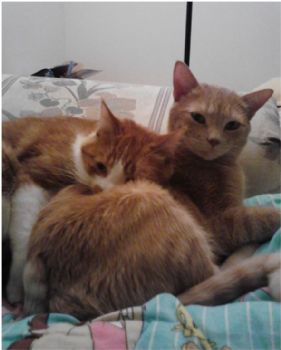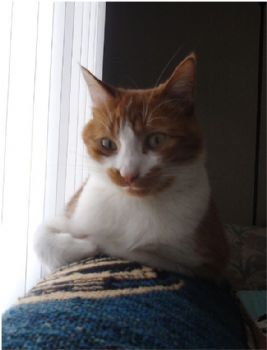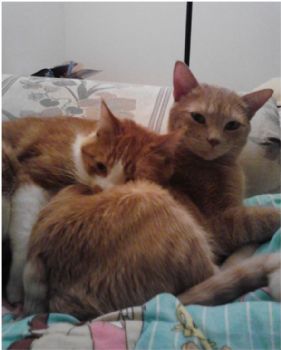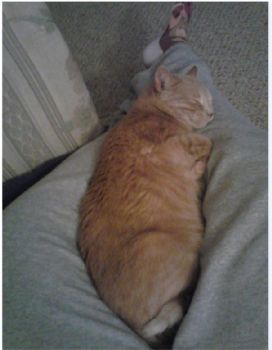 And the picture that makes me feel strong, brave, and amazing.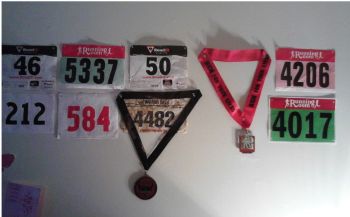 -- Elyse