I am beginning to put weight on my foot again after a bout with plantar fasciitis. A barefoot beach walk, my natural overpronation, and my excess weight were to blame for my foot pain.
----------------------------
-
However, this minor injury prompted reflection about my body. Over the last year, I have remembered how to enjoy exercise. Yes, it improves my moods. But it also makes me feel strong. Although I am not an athlete, I feel like one!
But, I have ignored the nutrition aspect of my journey. I incorporated consistent exercise into my life, but left off healthy eating. Thus, although I exercise multiple times a week and burn many calories, I have maintained my weight in the upper 190s/lower 200s (goal weight = mid 150s).
My body is strong. However, I have asked it to bear 50 pounds of excess weight and still perform in exercise.
I am aware that I am exaggerating the seriousness of this injury. Also, I believe exercise is important and wonderful, regardless of weight. In my particular situation, though, I have maintained the same weight for six months. I am not saying what anyone else should or should not do. I am only speaking for myself.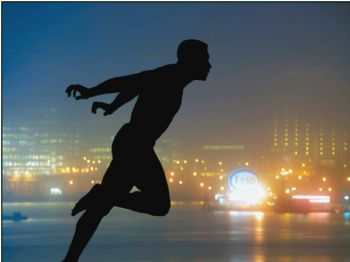 My reflections on this situation:
1) I am beyond blessed to have a healthy body. No chronic pain, (until now) no injuries, no diseases, etc. I can see, hear, walk, run, bend, stretch....
2) I like to exercise. And I want to exercise more.
3) It is unfair to my body to ask it to push when I do not provide TLC.
4) Weight loss, for me, right now, is not about looking cute. It's not about the ubiquitous little black dress or a bathing suit. It's about respect. It's about respecting my body enough to feed it healthy foods and lose weight.
My body has given and given and given to me during exercise. It has given its best; but I feel it told me this week through the injury, "ENOUGH! Enough is enough! You cannot continue this! I am doing my best, but I cannot support you anymore. Give me the care I deserve and I will keep trying for you. If not, you cannot expect me to work so hard without getting hurt."
So, this week, I resolve to track my calories. I resolve to stay within my calorie ranges. I want to lose one pound this week. Just one pound. It's a step in the right direction.
enough to care for myself