Monday, blah....
Tuesday, March 19, 2013
So Monday was not my best day ever in terms of eating within my calorie range or even remotely healthy.
I did well in the morning but completely got out of control in the evening. I did have my bowling league so I got some exercise but I'm sure I didn't even come close to burning the extra calories I ate.
Oh well I'm picking myself up today, and will do much better. I packed peanut butter and bread so I can have sandwiches and toast for breakfast/lunch.
Oh and I forgot to add that I got my 10 glasses of water in and 15 min of cardio yesterday so I hit two of my team challenges for the day.
On the plus side I got half of the flowers died for the bridesmaid bouqets. I'll finish them dyeing them tonight and then start putting them together. Here's a pic.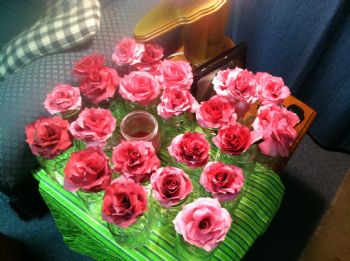 Well I'm off to get started on my day! Have an awesome day today!