Back in August 2012 I made the decision to start training for my first full marathon. For me, it seemed like a natural progression from running 5k's to a couple of half marathons. I did a lot of research into training programs, runners diets and exercise regimes. I was diligently working hard until I had to go back to teaching in September. Five a.m. runs are not fun and I stuck to it, trying to work around not only my schedule, but everyone else's.
Then October was here before I knew it and on the first of October 2012 I registered for my first marathon and wanted it to be special. I picked my hometown marathon that I have watched faithfully on local TV since it's been televised...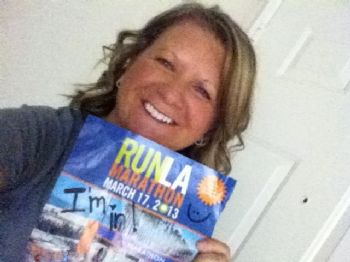 The Los Angeles Marathon.
Fast forward to March 2013 with the training complete, my body was ready, but mind was not. Running is very much a mental sport and I struggled with it. My biggest fear was failure because I had convinced everyone around me I'm going to do this and see this to the finish. The one person I had a hard time convincing was myself. By this time I was mentally and physically tired. I started to lose faith in myself and my training.
Marathon weekend had finally arrived....finally. My "athletic supporters"; aka, the family, and I drove down on the 16th to Santa Monica to check out the finish and then jumped onto the 10 east towards Downtown LA.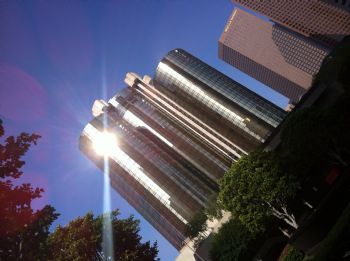 The Westin Bonaventure Hotel (our lodgings for the night)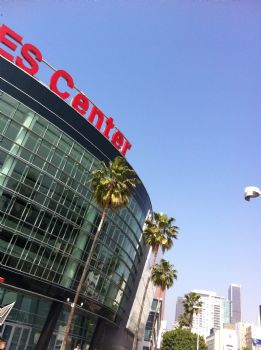 Outside the Staples Center. Don't let the blue sky and sunshine fool you. It was a chilly 76*....brrrrr. ;)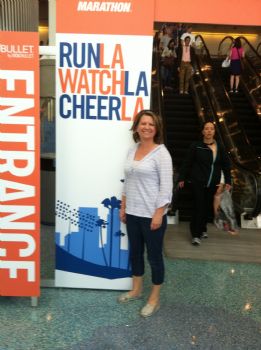 At the Los Angeles Convention Center for packet pick-up and Asics Expo (title sponsor of the marathon this year)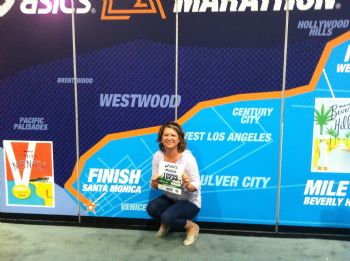 With my bib and at the finish, sort of.
We stopped at Target for some munchies for the next morning and then to CPK for some serious carb loading. Then buenos noches, Margarita, early morning wake-up...4:00 a.m.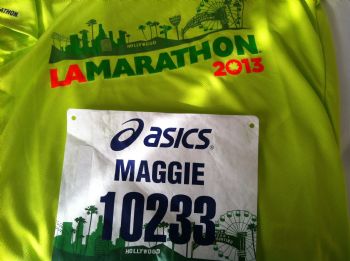 Happy St. Patrick's Day, LA!!!
It's 4:00 a.m in LA and we are headed down to the shuttle that will take me to the start at Dodger Stadium. Then the fam heads off to Santa Monica.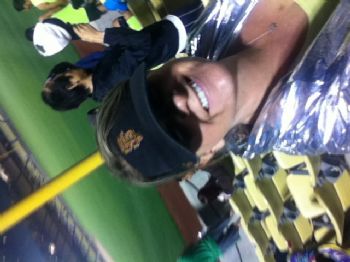 It was cool that they opened up the ballpark to use as a staging area just to sit and relax a bit in the bleachers.
Sorry about the sideways pics. I was using my iPad to type this blog and sometimes it has a mind of it's own. :/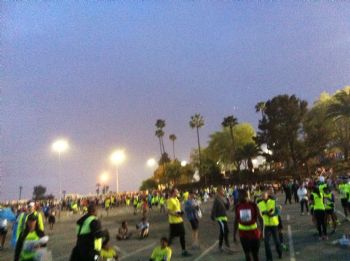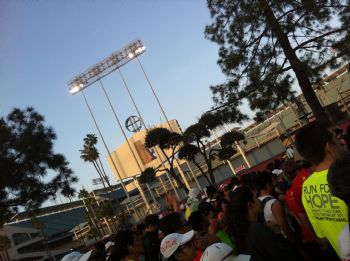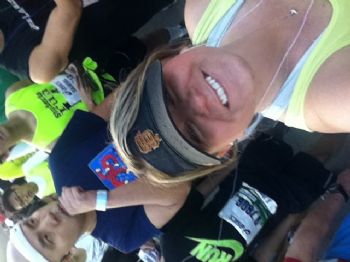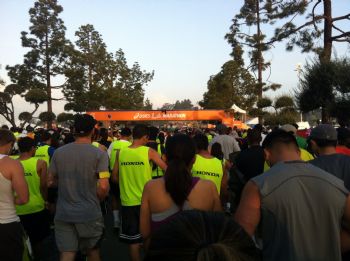 We got a proper St. Patricks Day in LA send off with Irish bagpipes, an American Idol contestant singing the National Anthem and Randy Newman singing "I Love LA".
Mile 1 - 3: The Sunset Gate at Dodger Stadium, Chinatown, and Olvera St. Feeling good.
Mile 4-6: Little Tokyo, City Hall, Disney Concert Hall, and a really BIG hill First St. Onto Echo Park and potty break. Feeling a little winded, but still in good spirits. The crowds cheering us on were awesome.
Mile 7-10: Sunset Blvd and the Asics Support Your Marathoner board. I stepped on an electronic mat and a message of support popped up from my family...so cool! Hollywood sign and Griffith Observatory. The gel I took at Mile 6 wasn't doing it's job, so thank you, to the City of Silverlake for the orange slices and candy.
Mile 10-13: Hollywooooooood!!!!!! Pantages Theatre, Walk of Fame, El Capitain Theatre, Dolby Theatre and Gruamanns. Toes were starting to go numb at this point and I slowed down my pace from a 10:30 to a 12:00.
Mile 13-16: Back onto Sunset, the Trobadour, Whiskey-A-Go-Go, West Hollywood and cheer leading drag queens, awesome. Beverly Hills, fancy schmancy. The Niketown volunteers were out to help keep the pace and to boost the morale. In n Out Burger on Doheny was looking really good, but I stuck to the Cliff Bar.
Mile 17: Window shopping on Rodeo Dr. , maaaaaahvolous daaaaaaahliiing.
Mile 18-20: I just about lost my mind and questioned my sanity. But seeing the best of humanity being played out on the course today with random acts of kindness kept me from pulling out the $20 in my pocket and jumping on the bus to Santa Moncia. At the VA Hospital at this point and a 14:00 min pace.
Mile 20: My faith in my training and myself restored when a message from my school popped up on the Asics board. I will finish this!
Mile 21-23: I've lost all feeling in my feet, my hands are swollen, my quads were screaming at me, my eyes were getting a little blurry and that nice ocean breeze was turning very chilly. Century City, Brentwood, Westwood and Palisades Park.
Mile 24: I saw Jesus! Seriously, a guy with long hair, a beard, sandals, and a robe walking along the course. I knew I must have reached Santa Monica.
Mile 25-26: I rounded the corner onto Ocean Ave with Coldplay's Fix You (my favorite song) on the iPod. I saw my family and I was just overcome with emotion. I was smiling through the tears when I crossed the finish and into the arms of my equally emotional family.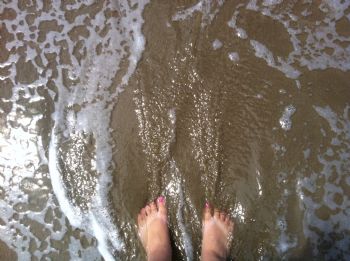 From the Stadium to the Sea.
It was said to me once that after one runs a marathon your life changes. The way I look at my life now is a lot different than how I looked at on Saturday. Things in my life thought were overwhelming or impossible are really not. I did something on Sunday that I once thought was impossible and made it possible.
This experience has taught me to be consistent, patient and to have faith. Have faith in the process, work hard, and never give up. What kept me going on Sunday were the cheering crowds, volunteers, SRLA kids, a rockin' playlist, cool bands, fellow runners, family, friends, students and the trust in my training. The power of the human spirit is awesome and can do some pretty amazing things.