I climbed out of my comfort zone this past weekend and traveled out of town so I could participate in a race. I NEVER thought I'd do that but now that I've broken that barrier there's no telling what will happen. HA!
My fitness friend and I left Friday afternoon to travel to Sacramento. We didn't want to leave home at 4:30 a.m. on race day and we wanted to have a bit of girl fun too.
We found the Fleet Feet Sports with relative ease that afternoon and picked up our race bib, timing chip and shirt. After the pick up we made our rounds in the store and I touched and admired EVERYTHING. They even had a boutique shop adjacent to which they gave us a coupon that I used. Shiny new things were bound to be mine and at a discount!
I wondered back to the Fleet Feet store to try and find a belt that would hold my cell phone, key and ID while out running the streets. While there I ran into Dan from The Biggest Loser, season five. He and his mom were in town as the "celebrities" for the race.
Me and Dan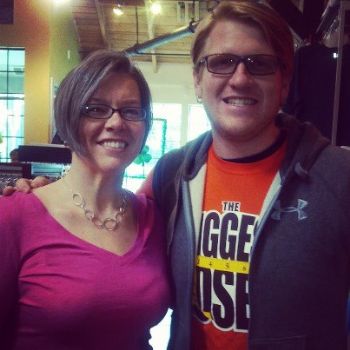 He really is a great guy; very down to earth and happy. We didn't talk much, he was shopping for new shiny stuff for his marathon the next day. I finally found and purchased a belt! I used it during the 5K and adore it.
Race Day! We were up and out of the hotel room by 6:00 a.m. I had peanut butter, water and coffee to get me through. I noted that my fitness friend is NOT a morning person, HA! No worries, I kept my chatter down and she perked up when the sun came up.
There were 2,000 participants for the race. It was clear that everyone was so excited to be there. The volunteers were amazing! And I do mean amazing!! This was one of the best organized races I've been too and everyone had a smile on their face the whole time.
We started at 8:00 a.m. sharp and the course took us through part of Old Sacramento and looped around from there. There were a couple of inclines that I wasn't expecting but didn't stop me at all. Our weather was cool and dry for the entire race. There were three sections on the course where they had music playing and one of those was a live band. At each mile marker they had inspirational quotes on banners that really spoke to ya when you were moving on by. The volunteers to cheer us on where again wonderful and throughout the course. Lots of high fives, shout outs and cheers.
I used the race as a training day so ran/walked the entire thing. It seemed like my running parts always came up when there was an incline ... FEEL.THE.BURN!
My fitness friend wanted to do the intervals with me which made me nervous. I suspected all along that she was quicker than I am when it comes to running and that proved to be correct. At each running interval she would take off like a rocket and I'd plug along behind. Of course, my recovery time was a lot quicker than hers and she admitted she doesn't know how to pace herself.
We began the race outside Raley Field and ended the race inside the stadium. When we neared the end I told my friend just book it and not look back to which she did. I finished strong and felt good!
Me at post race...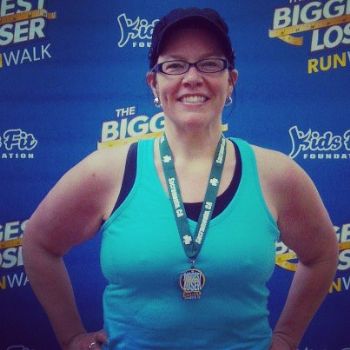 After the race we walked around to take a look at vendors and watch others cross the finish line. Many participants were first timers and just oozed with happiness. *LOVE*
While walking around I ran into Jackie, season five, contestant and mom to Dan. It is clear that she and Dan are committed to a healthy lifestyle and have stayed fit even after their time at the Biggest Loser ranch.
Jackie and Me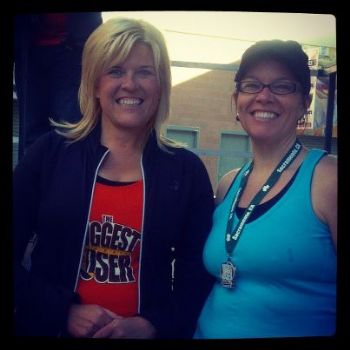 Finisher Medal: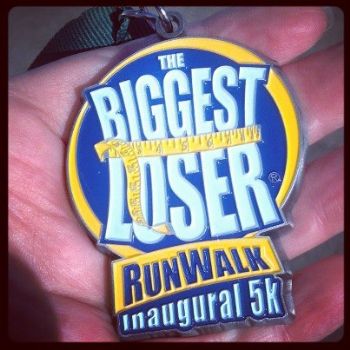 All the professional photo's taken during and after the race will be emailed to us and downloadable for free. Seriously, how cool is that! That email should be rolling in later this week and I'm looking forward to seeing what shots they took of me.
This was the first Biggest Loser race in Sacramento and if it happens again next year, I'm there! I'm not a hug supporter of the actual show for many reasons but I am a supporter of activities that gets us and keeps us moving.
I'm looking forward to great race season and improving my time.
I placed 30th
Overall Placement 187
Chip Time 48:50.3
Logged a 15:45/M