Monday, March 18, 2013
Inspired by a Spark Friend, ANGELAK85, I'm starting Hip Hop Abs today, and will continue doing it in addition to my regular workouts for the next 6 weeks. Fortunately, these DVDs aren't very long and aren't super cardio intensive, so it should be a good compliment to my usual treadmill stuff!
My regular workouts are at night right now, and I'm in a good routine with a friend here. In order to ensure that I stick with these new workouts too, I'm going to start doing them first thing in the morning.
I also plan to post blogs at least weekly while I do this, updating my progress in terms of sticking to the two a day workouts. At the end, I'll re-do measurements and pictures!
So, now for where I'm starting. I kinda wish I'd done before pics from when I started initially, but I'm not sure I'd see too much difference yet. Either way, I definitely still have a long way to go, so these will be good to compare things to for after this challenge as well as later on! Posting them is a little ... embarrassing, I guess, that I've let myself get this big, but it's also motivating to keep working to improve!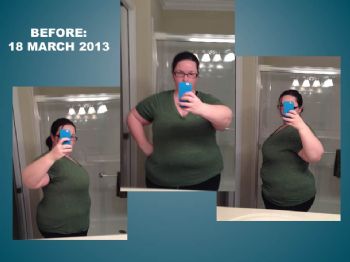 Starting measurements:
Neck: 14.5 inches
Chest: 52 inches
Waist: 43.5 inches
Upper Arm: 18.75 inches
Forearm: 13 inches
Hips: 58.5 inches
Thigh: 34.5 inches
Calf: 19 inches
Total Inches (counting arms and legs twice): 339.5
So here we go! Time for all these stats and pictures to keep getting better!