Back patio and weigh-in
Monday, March 18, 2013
The bougainvillea in the back are going through stages of blooming profusively and then then not so much. With the weather warming up they look really nice yesterday when we came back from town
Driving up to the back gate:
The light was all wrong the middle of the afternoon but they looked so nice, I snapped a couple of pictures anyway :)
From inside the gates: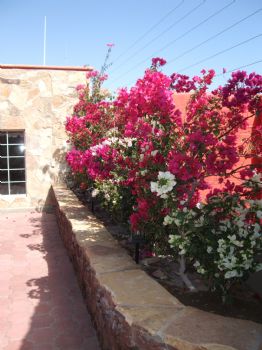 I am enjoying my meals with the butternut squash and my body seems to love it too - I am down a pound over the 2 days I have eaten it! Monday morning weigh-in 136.3 That's down over 15 pounds since January 1st!! My goal was to get below 145 again and I never dreamed that by doing The Plan I would lose almost 10 more. My goal is set at 135 for the end of the month.
This week is our 26th anniversary and my wedding weight was 132 (60kg) - it feels great to be so close to that again.