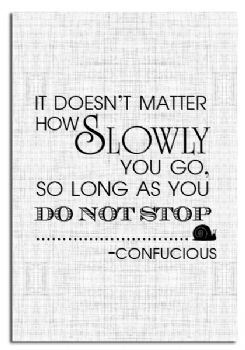 What you're asking of yourself is a lot to take in. It would be easier to keep doing what you've always done. However that would bring about the results you've always gotten. So you decide to shake it up - make a decision to bloom, grown, go in a different direction. Okay! You can do this. Now you've got to take that leap of faith. Believe in yourself. Not get in your own way. Just go.
So you adapt, look for healthier food, not diet food. Something you can live with, not feel deprived by, and be happy with for the future. Less is more. So moderation, not deprivation. You build in a treat, whether it's every day or once a week. So that you know you it's there and can have it and still work towards your goal.
You're drinking more water. At first you thought all you'd be doing was running to the restroom but now you see that's not the case. It's funny how a little thing like being properly hydrated means you have less headaches, your skin looks clearer, and you generally feel better. Who knew?
Little by little, step by step, you're getting there whether you realize it or not. These things you're asking of yourself are not only changing your inside, they're changing your outside too. They're easier to do and continue with than you thought. You're feeling better. You're looking better. You're a little more positive. It's all going in the right direction.
You're building a positive, healthy momentum for yourself and becoming a healthy force to be reckoned with.
Consider other mini goals you could add to your lifestyle... and then do it! Keep growing, changing, blooming, becoming the best possible version of you there is.
Don't let anyone stand in your way. And especially not yourself!