A few months back, my daughters and I were talking about bucket lists, and I mentioned that I'd always wanted to have tea at the Ritz in London. So for my birthday, that is what they decided to book for us.
I was warned that they had arranged other things for the rest of the day, and that I wouldn't get back till late, so dressed up in heels and a smart skirt, I fed the cats and shut them in, and we headed off to catch the tube up to Green Park.
Our tea was booked for 11.30 so we went straight there. I had never been into the Ritz before, and was a little overawed by all the mirrors and gold paint.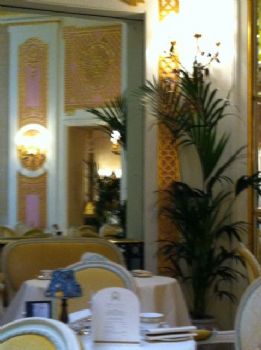 I had no idea how much I was expected to eat, but I was told that I had 90 minutes to eat it in! I have never seen so many varieties of tea in my life. It was quite hard to choose. My daughters were very excited that all their plans were going well.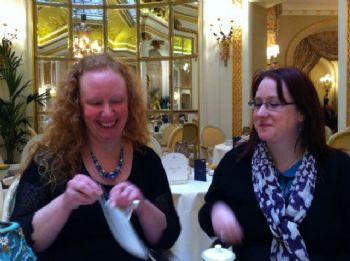 The sandwiches arrived first.
Each little sandwich was a different filling and the breads were different too! We had Ham with mustard mayo, cheese and a sweet chili chutney, cucumber with cream cheese, dill and chives, chicken with horseradish, smoked salmon and lemon butter, and last but not least, egg mayo, with chopped shallots and watercress. When we had eaten them, the waiter came and gave us more!
Then came the plain and raisin scones. We had clotted cream and strawberry conserve with those.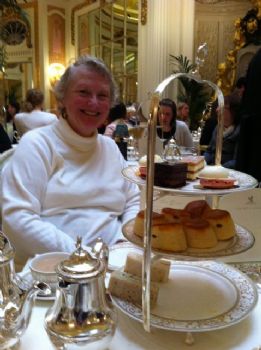 I then ate the cream slice, and thought we'd finished, but no, a dessert trolley came round! I chose a slice of lemon drizzle cake. By this time I feared I might burst! I had to leave part of that cake, we were all very full, and decided to go to our next destination.
The girls told me that I was having a day with a royal theme! I did wonder if that meant I was going on a tour of Buckingham palace, but it turned out to be the Victoria and Albert museum. I hadn't been there since I was at school, so we spent a happy couple of hours wandering around and looking at the exhibits. Then thirsty and tired, we fancied a cup of coffee, and went and found a coffee shop outside. They were serving lovely cakes, and it was beginning to make me feel sick just by looking at them!
By this time it was mid afternoon, and I was flagging a bit, but the girls assured me that after the next walk I could sit down for a couple of hours. We walked back past the museums and down some little side streets, and I was amazed to be taken into a pub! It was the last thing I was expecting. It was packed. The rugby was on and everyone was cheering the teams on. Oddly they were cheering the Welsh! Who won. We found a table and the girls decided to share something to eat, I just nicked their chips! (french fries to you Americans)
The girls kept asking me where I thought I was going, but I had no idea. Right up to the last minute I had no idea. It never would have occurred to have booked for the Royal Albert Hall, let alone a box at the Royal Albert Hall!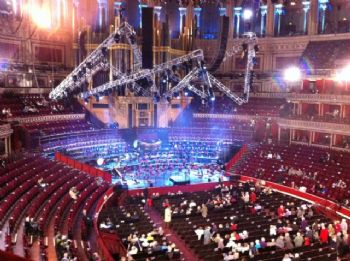 Fabulous! I was overjoyed, and they had wondered if I'd like it! They had booked a concert with the Royal Philharmonic Orchestra! A program of popular classics for Classic FM's 25th anniversary. It was very similar to the last night of the proms, with laser lighting.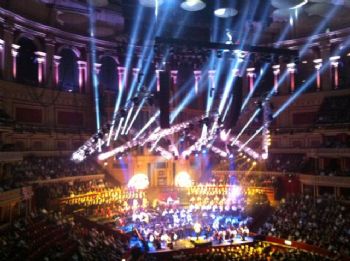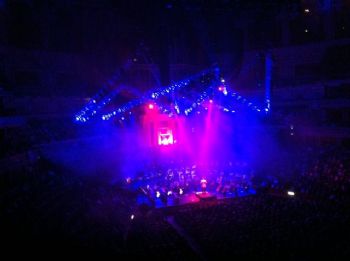 As you can see, the girls were looking after me well!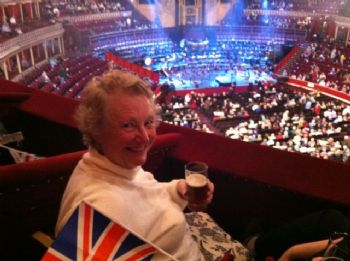 The lights were really stunning, and we ended the first half with a patriotic rendering of Elgar's 'Pomp and Circumstance', and of course the obligatory 'Land of Hope and Glory"
The second half was more of the same. We had all the old favourites, including 'Rule Britannia' Twice! We all had flags to wave, that had come with the program, and were singing away like sparrows! I would say larks, but you haven't heard my singing! I think the beer had helped lubricate my vocal chords!
To finish, we heard the 1812 overture, complete with cannon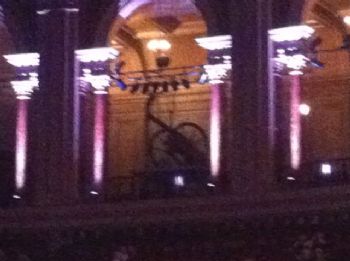 And fireworks!!
It was deafening, but brilliant.
I had had a lovely day. We finally staggered in just before midnight, and the following day my throat was sore from all the singing! There was never a birthday like it, and they have said that they can't possibly top it for next year!