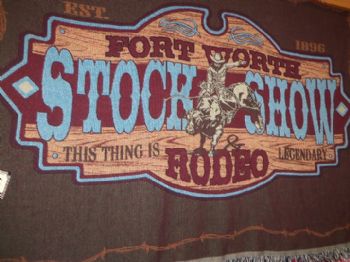 The saying under Fort Worth Stock Show is: "This thing is Legendary!" This was a fabric throw.
A few weeks ago, some friends invited me to go to the Fort Worth Stock Show for a day. Chris Cox was there, giving a demonstration on Natural Horsemanship. It seems every time I see him do a presentation, I learn something. (I also enjoy seeing Craig Cameron, Clinton Anderson, and Pat Parelli) Of course, I DID learn something, but the Stock Show offers so much more!
There are endless booths set up in the sales building with all kinds of new products for Farmers and Ranchers and clothing for those who enjoy the western lifestyle! There are saddles, bridles, hats, boots, tractors and equipment on display. Some of my favorite things to look at are the western jewelry and the horse trailers with living quarters. I saw this trip as an opportunity to share this experience with my Spark Friends who may not get to see it.
So, armed with my trusty camera, these photos were taken just to share with you!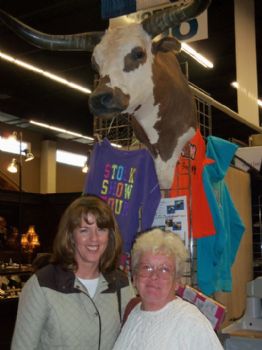 My riding buddies, Dana and Cheryl. Dana is on the left, and Cheryl on the right. I had them pose under a Texas Longhorn!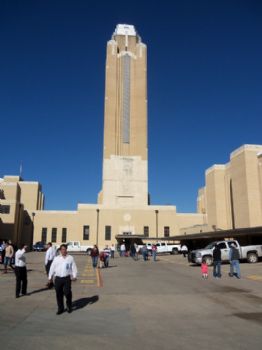 The stock show is held at the Will Rogers Complex, just off University Drive in Fort Worth. This show is very prestigious and has a long, rich history. It has been held every year for over 100 years, and used to be titled "Fort Worth Fat Stock Show" until a few years ago. The above photo is the tower above the building of the main colisseum.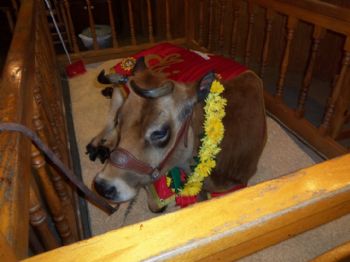 Even Elsie the Cow was there!
One display of some boots.......Cheryl was looking for a pair.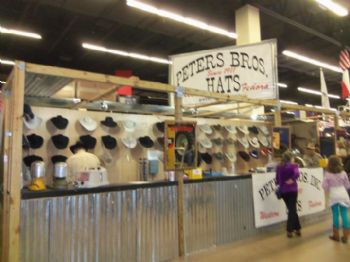 Some stores have "working boothes" Here, they were making and fitting hats for people, using steam. If you have never seen a hat made, it is quite an interesting process!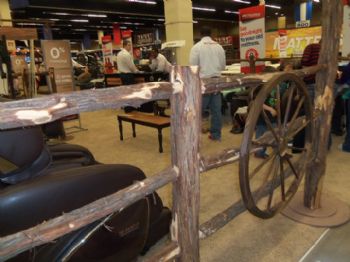 An example of the creativity in dividers between the booths
"Texas Star" hide
Other examples of hides on display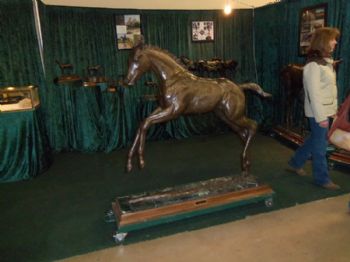 A bronze display. They were selling diamond jewelry and bronzes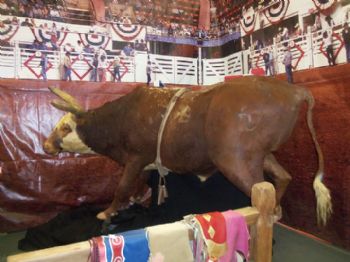 Who turned the bull loose?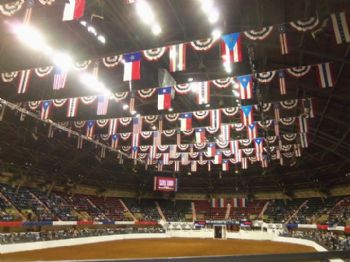 Inside the historic "Will Rogers Colisseum" where the rodeos are held every night during the stock show. Back in 1999 I went to every performance. This year, we were watching a demonstration of the horses to be sold in the Ranch Horse Sale.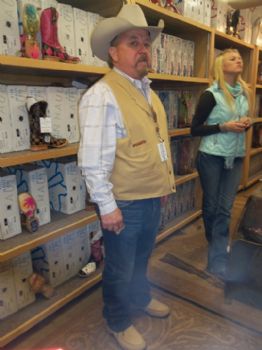 This man was selling tack and clothing I think, in one of the booths. Of course, everyone wears their finest Western attire. Many of the women also dress pretty fancy, draped in furs and jewelry, but not us,

Hope you enjoyed this visit to the 2013 Fort Worth Stock Show and Rodeo!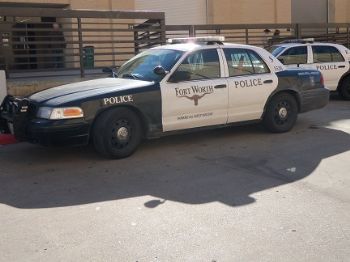 I saw this Police Car sitting there as we were walking from the colisseum and thought some of you may enjoy seeing what a Fort Worth Police Car looks like. Downtown, they actually have Policeman patrolling on horseback but they are dressed like cowboys, and wear a badge!