Ads like this were common when women were the only ones expected to use household appliances. You wouldn't see such a campaign today.
Ignoring the "crying to get what you want" image described here, I was wondering how women (or even men) feel today about PRACTICAL gifts.
Food processor or a piece of jewelry?
A dustbuster or a sweater?
A bicycle helmet or perfume/aftershave?
After 45 years of marriage, there's not much DH & I need for the house that we don't just buy when replacement is necessary, so this never comes up in our lives now.
In the past, however, we did give EACH OTHER stuff for the house. We were a thrifty, practical couple. Personal gifts were small things like a coffee mug with a meaningful image and caption. When we wanted/needed a jacket, suit or dress, we bought it ourselves. We often shopped for it together for an opinion. It just never arrived as a gift. Oh, maybe a tie or a scarf did, but it was always just a little something extra.
DH once gave me a "Rosie the Riveter" T-shirt for Christmas. This WWII era icon once told women "we can do it."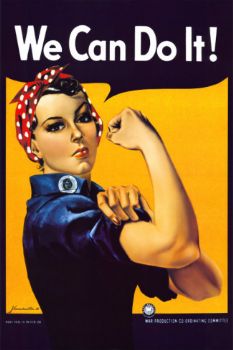 Then there was the year that DH & I each got a "crown" for Christmas, expensive ones too. The dentist put them in our mouths after we each broke a tooth in the same week.
So how do you all decide what to buy your significant other and how do you feel about the type of gift you get and the media messages to entice you to buy?