Photos from Boot Camp
Saturday, March 16, 2013
I'm slowly getting over my cold. I've been totally DayQuil free today and have been feeling alright, though I have slept a lot of this Saturday away! I think I might try to go to the gym tomorrow.
Anyway, the Meetup group organizer took some photos at the boot camp and posted them today. Here are the 2 that I'm in.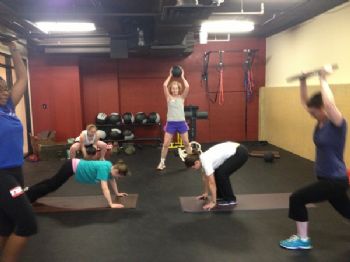 I'm the one in the teal-colored sneakers on the right. We are lunging with weights over our head. I HATED that one the most!
My back is to the camera in the second photo. We had to pick up a rubber medicine ball, lift it above our heads, then throw it to the ground and squat to pick it back up. It might not sound like it, but this one was surpringly fun! ;-)