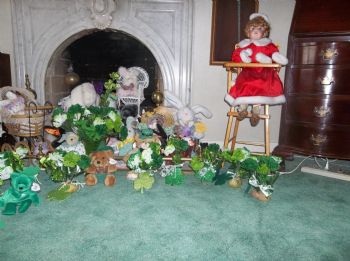 Wishing everyone a Happy St. Pats Day. and welcome to Spring

Have my St.Pats day meal planned Know it will push me over my sodium for the day with the Corn Beef found some in the deli and got less then a half pound so no left overs to have latter. thanks to Spark friends I have several cabbage recipes to have latter this month. went to the store Friday and found a small cabbage.usually just buy the chopped cabbage in the bag.
I ordered the new Spark yesterday but it not coming out until May. I also got three months of Spark coach free and have DVD's on the way. the month is half over
eating slow at dinner is going well the stuffed turtle is still sitting on the table with saying to remind me the slower I eat the better remember its takes the brain 20 minutes to get the message out time to stop eating. next meal is lunch its a smaller so Its going to be harder to stretch the meal out

Walking every day Yes gym 4 to 5 days a week yes

home challenge to work need to fit more in but have done at least three 10 minutes workouts. enjoying the four season to write in our journal each day some thing we are grateful for that day. Did fair on green veggies but working on it tried Kale not a favorite low on my do it again list.
The training clinic for my 12 K race was this morning its one put on by the Race org. and one of the local hospitals was excited to get out with other walkers and walk on the course we will be running. still at a set point with my weight lose which is up setting at times Goal for the rest of the month watch of the NSV and don't worry about the numbers. I tell my self this all the time but sometimes i need to put my Listening Ears on as Judge Judy often says on her show. the little voice in my head has been been more encouraging since i stayed off the scales
The next challenge with Spark friend training for the Olympics


but not the 8 to 10 they train.
made a new motivational board since I need to work on watching my Sodium to lower my BP found a great saying from Rachel Ray
No one ever said YUM Sodium !!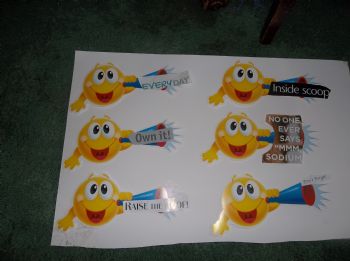 besides needing to lowering the BP salt intake i am working the
lower my cholesterol.I was reminded again that good health is not just weight loss but the need to plan and eat healthy
take care of eating healthy and exercise and the pound will go away on their own.
Happy St. Pats again team mates







The flowers in the potatoes are going to family no longer here with us.