Saturday, March 16, 2013
This morning I was going through my Facebook picture albums, because one of my FB friends had 'liked' several of them.
I came across these two pictures I had taken near the end of May 2011.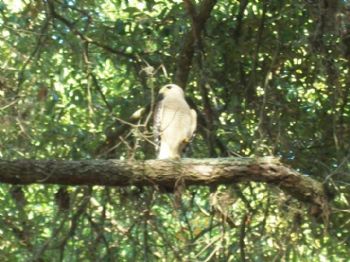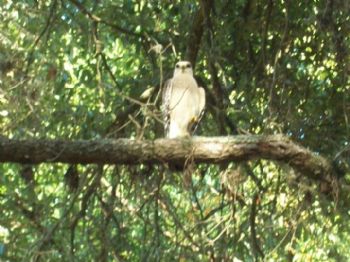 This hawk had landed in the oak tree in my front yard. I was amazed to see it land there, and I ran to fetch my camera. It remained calmly until I took a few pictures. You can see it looked down upon me. Then it just flew away.
At this point I will give you some background about me. I have Cherokee Indian blood from both my mother and fathers sides of the family. My maternal G-G grandmother was 100%. I was born in Little Rock, AR where there were many Western Cherokee Nation descendants.
I went to the internet, looking for Native American lore about this bird. It turned out to be a Broadwinged Hawk. I searched further to see if there was any significance attributed to the hawk.
"According to native american lore, the hawk is the messenger of change. Hawk reminded the people they needed to be awake and aware and can achieve great things through persistence and sheer strength of will." This is a quote from my May, 2011 description of the pictures.
The visitation of a hawk is a messenger of change. Hmmm. That picture was taken 3 months before I decided to go for my first 'jog' to lose weight.
Coincidence? Probably. But, I still got goose bumps when I saw that picture caption this morning.
Thanks for reading and have a great day.