How to be Healthy While Traveling...
Saturday, March 16, 2013
I am in my first week of a 2 month trip oveseas. I have been living in a hotel, so only restaurant food to be found. I am in a country that will not look favorably on someone (especially a woman) jogging on the streets. In fact, the streets are so crowded in this part of town that a brisk walk is impossible. Fortunately, I brought exercise videos. They aren't my favorite thing to do, but it's better than nothing.
Eating local (sometimes exotic) food in restaurants means that logging calories is nearly impossible. I don't even have a clue what is in some of these things I'm eating! I just have to remember the principles of good eating: lots of veggies and fruits, lean meat and fish, some carbs, small portions. There's lots of fish here, so I'm in luck, but restaurants don't usually serve lots of vegetables. I'm supplementing with fresh veggies (raw) from the market.
I have no idea how this 2 month experiment is going, but I guess I'll find out eventually.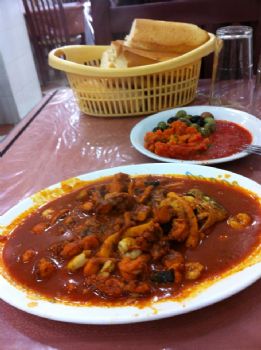 (my lunch yesterday - fish and shellfish in sauce. Yummy!)