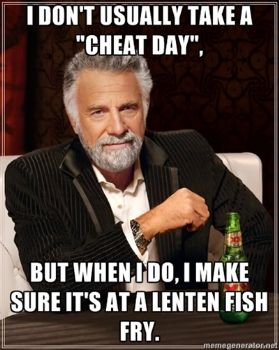 Not gonna lie, today we went to St. Max's fish fry (fried fish sandwich, crab cakes, pierogies, haluski, potato pancakes...all that Eastern European grandma cooking, way heavy on the carb). Less than ideal regarding how I fueled, but considering that I feel confident in how things are trending and how good habits have been ingrained, I'm comfortable with it. I suppose it could be rationalization, but unless it's part of systemic negative trending, no problem.
Picked up some other fitness tools, beaded jump rope on the cheap from Five Below, cheap cycling jersey from Dick's Sporting Goods...wasn't really looking for cycling gear, but they had a sale that hit my price point. Was actually looking for some additional stuff for dumbbell work...extra plate, handles, etc.
Last week was some serious hardcore stress that I was having trouble managing, regarding contracts I'm working on. Unresolved, but I'm having to work on that element of being able to manage the stress efficiently without having it bleed into other aspects of home/work life. A developed skill that takes a lot of practice, for sure.
On another note, as a parent, I think that we always are concerned whether or not we're doing the best job we can, and many times we are very aware of our mistakes and screw-ups, so when something on the other end comes out positive, it's something we should really value and appreciate.
A few days ago, Big Boy, our eldest (7), was shopping with the DW and found this shining red light bleeping thing in the parking lot. DW talked to him and they agreed that they should bring it to the store management to see if someone had lost it.
Turned out this was a part of someone's cochlear implant. They had called the store frantically looking for this a few minutes prior. It was nice because we had left our number with the store and they left a message thanking us for returning the implant part that they had only had for a short time.
Big Boy was very proud of himself for doing the right thing, and we made sure to let him know that we were proud that he was someone's "every day hero".
Things like this have a way of putting the stress of work/life in perspective.
I've been plateaued for the last several years, within the low to mid 160s and am re-evaluating my admittedly arbitrary goal of dropping down to 150.
The question is can I reach that without harming my power/weight ratio...I'm not sure. I'll see how this 200K attempt in May goes, and if I'm satisfied with my performance...I'll have to see what I want to accomplish, and if my arbitrary goal makes sense from a performance standpoint.
Still tweaking the fit on Sunstreaker, the new cyclocross rig. Felt "twitchy" and slightly cramped on the last ride, so I'm working on adjusting saddle setback, to see if that resolves some of the handling issues. Last night ride, had a nasty experience with chainsuck, with the chain wedging itself between the chainstay...likely because I'm still getting used to the shifting with integrated shifters. All a learning process, but scratching your frame's new paint...*facepalm*
Ah well, character, I guess...none of my gear is pristine, because none of it hangs in the garage gathering dust.
As they say, "a rolling stone gathers no moss".
Hope you're all having a great weekend and progressing towards your goals!