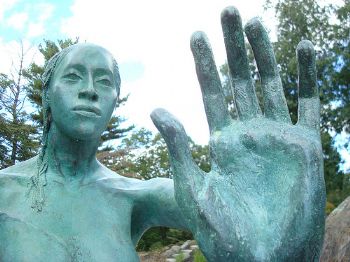 You get that sometimes?
The "Talk to the Hand" reaction to something you've said or written?
I do, occasionally.
And it frustrates me a bit.
I'm not losing sleep over it but it DOES frustrate me when someone simply isn't interested in hearing the truth.
Sometimes people have said or written that I'm being negative in my approach toward their ideas or plans or line of thinking.
I won't be so blind to my own imperfections to say that their words are patently false.
Because sometimes... well... sometimes I can be quite blunt.
And occasionally... well, my words might come across negatively.
In mathematics there is this idea of the absolute value of a number.
Before you tune out because I used the word "mathematics", stick with me.
I won't delve into non-Euclidean geometry or discuss L'H˘pital's rule.
Promise.
The absolute value function takes it's argument and essentially returns a value which is the same distance from zero but is positive.
So the absolute value of -1 is 1.
And the absolute value of 1 is 1.
And the absolute value of 0 is 0.
See.
Not so bad.
Recently I provided some unsolicited advice to an individual.
Strictly speaking, this person didn't say "Matt, I'd like to say some things and get your personal opinion on the matter."
But this person did put their thoughts out into what is essentially a public forum where individuals can and do add commentary.
It is my opinion that if you are going to do that, you've got to expect to get some feedback from time to time.
As you might imagine, the advice wasn't well received.
Sometimes I think folks simply don't want to hear anything that differs from their closely-held beliefs.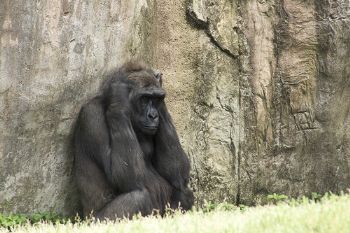 As Paul Simon wrote, "...a man hears what he wants to hear and disregards the rest."
And so my opinion and words of advice are little more than a "pocket full of mumbles", as it goes in "The Boxer".
To be fair, I'm not everyone's cup of tea.
I get that.
So I started thinking about my delivery a bit.
And asking the question "Is there such thing as the absolute value of truth?" and pondering that.
Meaning, is the "packaging" around which the truth is delivered important?
I believe it is.
And furthermore I believe that if the recipient views this "packaging" as being negative, it is highly unlikely that they will be able to see past it to the truth inside.
And that is unfortunate.
And I believe that I have played a role in pushing one person here at SparkPeople away from the site.
To be honest, I think it involves much more than my commentary on a couple of posts.
But I've played a role nonetheless.
And that too is unfortunate.
It is never my intention to beat anyone down.
Never.
But I recognize that my general approach is one that might be taken wrong, particularly by someone who is struggling and hasn't asked for my blunt opinions.
Again, I'm not everyone's cup of tea.
I am, however, quite certain that the advice and encouragement I give is generally spot-on.
Not because I'm something special or have got it all figured out.
It's just that my advice here on this site is pretty simple.
Track what you eat.
Focus on the daily net calorie target.
Work to become mentally stronger.
Get up and move a bit throughout the week.
It is hard to argue with that.
Still...
Losing weight is hard and people tend to fail.
People tend to give up.
People tend to search for solutions.
And people have baggage they are dealing with.
Family baggage.
Environmental baggage.
Thoughts in their heads.
Emotions.
We all have baggage.
I'm not immune to it.
Again, I'm nothing special.
Just an average guy trying to lose weight, get fit and be healthy.
Like most other people here.
I think I'm going to rethink my commentary on other people's blogs a bit.
Not sure how that will work yet.
As for my own blog posts...
Well, this is MY place and I've got thick skin and don't have any problem fielding complaints and dissenting opinions.
And I can't imagine I'll be watering down the message here.
This blog isn't required reading for anyone...
Well, anyone other than me, that is.
So I'm perfectly OK saying things here such as:
Unless and until you get your head in the game, you're going to spin your wheels and be unsuccessful at weight loss.
It is your job to get your life together.
The victim's cloak you've been trying to use to shield yourself from the truth needs to go.
Because you are not a victim.
You are strong. Strong enough. Way stronger than you think.
And those excuses you keep making... they are lies you tell yourself to avoid dealing with the real issues.
Issues like the fact that you haven't decided that your weight loss is a priority today.
Issues like the fact that you are unfocused and worry more about ancillary things than the core problems.
And issues like the fact that you have spent a lifetime making bad choices and it will take hard work and dedication to undo that.
I'll keep saying those thing here because ** I ** need to hear them.
I just might not say those things in comments on other people's blogs anymore.
Particularly people who don't know me and whom I don't know.
At least that's my thinking at the moment.
Folks will come and go... the percentages are not particularly encouraging.
Most people give up and sometimes it appears that people are just looking for an excuse to give up.
I'm not going to contribute to that.
I'm not going to give them their easy out.
In the end, each of us has to take control of our own life.
To OWN our life and deal with whatever state it is in.
Individually we need to step up and grab the wheel.
Do that or you will likely fail.
But you're strong enough not to fail.
Do you realize that?
Make it a great day!
Matt
[Images provided under Creative Commons license. Thanks to wayneandwax, me and the sysop]