Friday, March 15, 2013
I am sitting on the train from Philadelphia to Washington DC, on my way to my 3rd Half Marathon in my quest to run 13 in 2013!
My first was a Virtual Half, I ran it for my Barking Mad About Breast Cancer Virtual Race, which raised over $1000 for Susan G Komen! It took 2:36 to complete.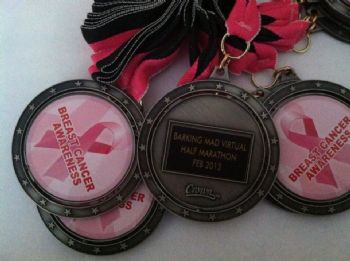 My second race was the E Murray Todd Half Marathon in Lincroft NJ. I ran it with my friend Eileen. It is a super hilly race, and it kicked our butts! It was also under 30* and windy! It got very ugly very fast! It took me 2:52 to finish, my worst time ever, but I didn't care! There was no bling, which bummed me out, but it was a cheap entry fee, and you get what you pay for! All of the food was gone when we finished as well, but we did get a jar of cookie butter, which the hubs and kids like.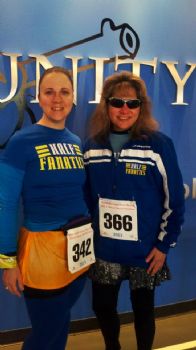 This weekend is Rock n Roll USA, I am super excited, even if it is suppose to rain all day! The scenery will be amazing rain or shine, and the fam is coming, so we will be sightseeing as well! My daughter and I are going to the Zoo today and tomorrow after the race we will all go see the Smithsonians, etc.
I recently became a Shubeez affiliate, which I am very excited about! They make shoe tags so you can brag about running a Half or a Full, and they also make one for Breast Cancer. Google them, they are awesome. Choose Barking Mad in the affiliate drop down menu if you decide you like them!