Ultrasound Pictures
Friday, March 15, 2013
I got back to town and had my super exciting ultrasound appointment yesterday! It was the most wonderful experience! My DH looked so thrilled also! Everything looks great and healthy. The baby has a heartbeat of 160 bpm, and we were able to see the little heart beating and hear it too.

We also saw the little hands moving around (I think he/she was waving at us) and even saw the little brain. THAT was crazy! It was all such an awesome experience that I will never forget as long as I live. So, here they are, the first pics of my little tiny precious baby!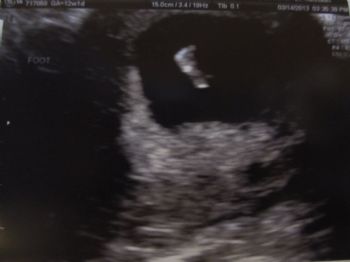 Little tiny foot!
Baby before hiding from the camera!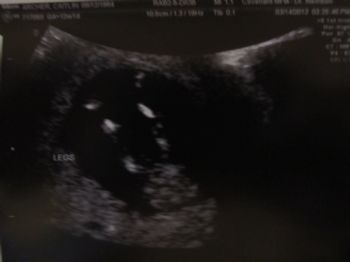 Cute little froggy legs!
Just to give a quick update also, spending time with my parents was not AS bad as I anticipated. I actually had a lot of fun with my mom. My dad....eh... But, I did remain calm no matter what was said to me. Right now, I'm concerned with the good health of my little one. I just kept taking deep breaths in the tough moments and keeping calm. Thanks for all your wonderful support before I left! I was so glad to come back home to my sweetie! While I was gone, he got SOOOO much done around our house. He started the texturing process in the nursery, got a lot of painting done, and got our bedroom hardwood floors refinished. Here they are: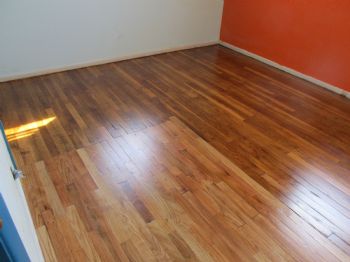 We will be in our bedroom inside a week or two. I can hardly wait! Now, I have to really focus for the next week. Our 5k color run is next Saturday. I have been walking to prepare. I have to do it early in the day though, because by the end of the day, my ankles are so swollen, I can barely move my legs! Anyway, I hope all of you have had an excellent week! I have missed being on here very much!