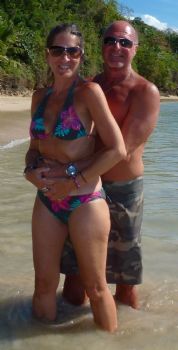 Left Photo: Taken in January 2012, 6 months before I quit smoking. Right Photo: Taken in January 2013, 6 months after I quit smoking.
After having smoked for so many years, I finally quit on June 29, 2012. I enjoyed smoking and, at the time, could not imagine NOT smoking. I had heard so many stories about failed attempts and of the vast agonizing withdrawal symptoms, the weight gain, etc. and, because of that, I was never motivated to quit...which was my excuse NOT to quit. However, I finally came to the realization that living a smoke-free life is so much better than having to deal with smoking-related health issues. Quitting, for me, has been incredibly easy. No crutches, no more excuses...just stopped. I set a date and was prepared to deal with whatever I had to to not smoke. Surprisingly, the withdrawal (both physical and psychological) was amazingly smooth. The only symptoms I can recall as being somewhat troublesome were lack of energy and lack of concentration. A few months later, came the weight-gain. (Eeep!) It crept up on me over about a two-month period (while I was out of the country) and, being that I've never had any weight issues (5'4", 105 to 110 lbs - size 3), I thought "No biggie", I'll deal with it when I return home. Well, I've been back home for two months now and am still fighting the "battle of the bulge".
I co-direct a humanitarian organization...or rather, it runs me. Literally. I really enjoy my work, but it leaves so little ME time. Being that I work from home and it's international, I find myself working crazy long hours and, basically, at any given time within a 24-hour period. I found myself skipping meals and then would be so hungry by mid-afternoon/early evening and would occasionally become careless about what I would eat. And, if that wasn't bad enough, most of my food consumption was at night...between dinnertime and bedtime. Finding time for physical activity was difficult, but I would squeeze time in, on occasion...only to often be distracted. Frustrating. And, not healthy.
I have joined SparkPeople so as to get on track with being more disciplined with when and what I eat and with making time for regular physical activity each day. I am hoping that by disciplined tracking of my diet and exercise, it will become a lifestyle change.