Thursday, March 14, 2013
This "bike desk" is what I finally finished putting in place this morning!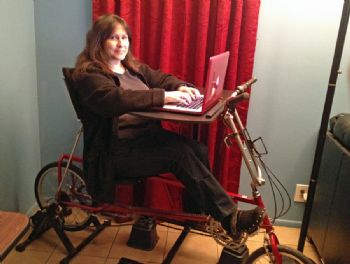 I already had the recumbent bike (an actual bike on a stationery stand); my father gave it to me when my mother went into assisted living (it was hers). I was inspired by my BLC team captain to find a way to Spark and pedal at the same time. So, last night I got a laptop cart from Walmart, my husband put it together, and it just didn't fit into place right. It was too low and too far away. When I woke up this morning, I was determined to make it work! I turned the handlebars around, took some adjustable bed risers and put the cart on them. That made room to put the desk closer to me, and also it was high enough that my knees didn't bump it. I am very excited about this! I guess this is a good example of "where there's a will there's a way," lol!