I've been doing a lot of walking lately and because I haven't done it consistently in so long, my legs are in shock and get sore and stiff. To settle them down, I was doing some leg-stretches this morning behind my desk and a colleague came up and asked me what I was doing. When I told her that I was soothing sore muscles, she recommended I watch the following video, which gives a lesson on the importance of movement and stretching to maintain the sliding properties of tissues in the body.
***WARNING: The video is a little graphic because some of the tissue demonstrations are performed on a cadaver. If you're squeamish, this might not be for you - but if you leave it running in the background in a browser tab, the audio explanation alone is excellent.
"The Fuzz" by Dr. Gil Hedley, Ph.D:
www.youtube.com/watch?v=
BdRqLrCF_Ys
The medical term for the 'fuzz' referred to in the video is fascia, which is defined as "A sheet or band of fibrous connective tissue enveloping, separating, or binding together muscles, organs, and other soft structures of the body."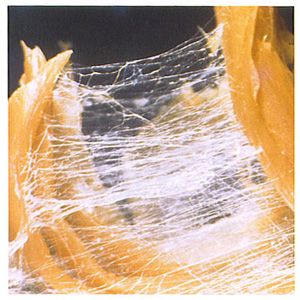 A buildup of fuzz/fascia is what happens when people allow themselves or parts of themselves to become sedentary and/or unstretched; the fuzz builds up and 'locks up' tissues that aren't being used, and the only way to recover them is to get them moving again. This becomes especially apparent in older adults who don't move around a lot - when (or if) they finally do, it's an incredibly slow and painful process. Kind of gives new definition to the phrase "move it or lose it", doesn't it?
I'd never really given much thought to the way body tissues work and repair themselves, so to hear it explained in the video and actually be able to SEE what's going on inside is hugely enlightening. Now that I know what happens when I DON'T stretch, it gives me incentive to make sure I do, thoroughly and often!