I am REALLY such a visual learner, so when I saw this picture, it had a huge impact on me.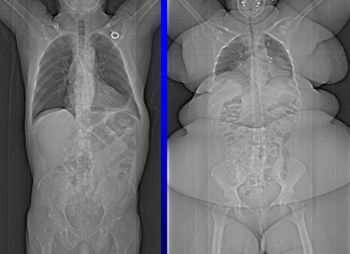 Is it any wonder that at a higher weight I was short of breath?
Is it any wonder that at a higher weight I was constipated?
Is it any wonder that at a higher weight my feet were numb? Think how much longer it takes to circulate blood all the way from my heart to my feet. How much longer to get it back to my heart. How poor the oxygenation is in the process.
Is it any wonder that it's difficult to palpate a breast mass at that higher weight?
Or that an abdominal mass could be missed on simple palpation?
Just think the stress I put on my bones when I'm at that higher weight. My dear feet and legs really endured a lot.
Imagine the stress on my arms as I pushed to raise myself up from a chair or bed.
Oh the lack of space and the pressure against those abdominal organs when I carried around that heavier weight.
Think about the stress on my skin ... that precious system that protects all of me from the outside world.
Imagine the pressure on my back from supporting all that girth.
When I look at these two pictures, I sincerely never want to eat the foods that support a 300 pound body ... not the unhealthy foods nor the quantities. I understand the risks that I've put my body through. I know how blessed I am that I recovered from the system failures that I had endured. I know that it was simply grace that I did not have long-term damage. I am grateful ... and will always give thanks that I worked out my answer before it was to late.
Regardless your size, I hope you give yourself the opportunity to know the full happiness of an appropriately sized body. YOU can do it! It's a journey sooooo worth taking!