Wednesday, March 13, 2013
W3D3 of C25K is complete! It was the easiest one this week! (As it should be.) There is something to doing something 3 times, I think. On Saturday, when I did Day 1 of the Week 3 workouts, I was dying. I was glad I was alone in my basement on my treadmill...because I was really puffing to get through the runs. But I did it. It was really hard for me. On Monday, when I did Day 2 of the Week 3 workouts, it was definitely easier...it was hard but I didn't feel like I was dying and I "knew" I could do it...because I had already done it once. I was thankful it was easier. Then, today, when I did Day 3 of the Week 3 workouts, I knew it would be the easiest yet. I was really confident and not scared of it at all. I knew I would get through it and even looked forward to the conquer! As I was doing the runs, I started chanting cadences (like they do in the military) to keep my pace and push me to keep going and keep breathing. It really worked great! I didn't feel self-conscious doing it since I was home alone during my workout. This really helped me. (Guess the military knows what it's doing! I'm sure my son and son-in-law would be glad to hear I approve of their training methods...son in the Army...son-in-law in the Air Force.)
I'm at 8,168 steps...so I think I am going to do some more tonight with the Wii and finish it out and get my 10,000 steps in...on a work day no less! Woo hoo! I also got in my 10 flights of stairs already. And I'm way over for my water consumption...I've been killing that goal daily. Today, is my 6th day of this on-track streak. I've been eating in range daily, recording everything and NOT binge-eating. Yay! I did get the urge last night...but I managed to battle through it. I was staying up late to watch a show with DD. And I was tired. And I wanted to scarf down some food to keep me awake. But I just did my best to stay awake through it and then hit the sheets. Whew!
Today, I took in the diet pop cupcakes for my co-worker's birthday. My cubicle mates all liked them! Yay! Happy Birthday! We all had a good day together. I really like where I am working now and my co-workers. I'm glad I stayed and weathered the storm that was taking place when I first started working there. It's been smooth sailing lately...and next week, I'm on vacation! Off to visit that new grandbaby...and my other sweet granddaughter. I'm going to have their pics taken together at a Target that is located in between their two homes. I'm really looking forward to it. Until then, here's a picture of each of them to tide you over!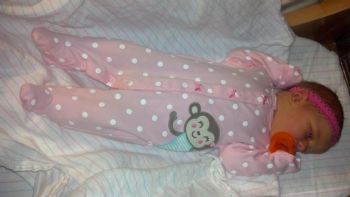 This is our newborn, Bronwyn. She was born last Thursday, 3/7/13.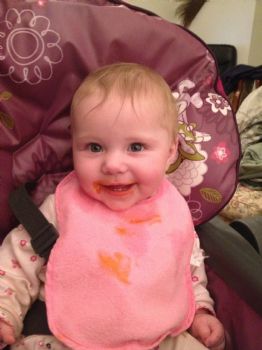 This is our 6-month-old, Amelia. This was her "I LIKE CARROTS" picture.
Can't wait to see them! Grandma's coming! Hope you all had a great Wednesday! Keep up the good work! Thanks for the encouragement! Spark on!