It's been far too long since my last blog entry! I never mean to let so much time pass between what I consider "significant" updates, but lack of motivation/inspiration certainly didn't help. I've been logging in almost every day, but spinning the wheel and a half-hearted scroll through the Friend Feed has been pretty much the extent of most of my visits.
I never feel right coming here unless I'm making a genuine effort toward healthier living, which definitely hasn't been the case over the last month and a half. I'd get back on track for a couple days at a time, but then I'd lose my focus and return to being lazy and not watch what I eat. Though I had some good days, overall I'd been making very little effort toward actually losing weight, yet remained absolutely convinced that I wanted to.
No surprise, the numbers on the scale didn't change much. I've completely mastered the habit of weighing in on my designated days though - every Monday and Thursday morning immediately after my morning pee, I hop on the scale and snap a photo of the results, whether I'm in the mood for it or not. Weighing in has become such a routine that I feel incredibly guilty if I try to skip it.
Weight-wise, I've been holding steady between 225-230lbs, and I feel like I'm finally ready in mind, spirit, and body to bring those numbers down and never have to look upon them again. As of Monday, March 11th, the scale reported my weight as 225.6: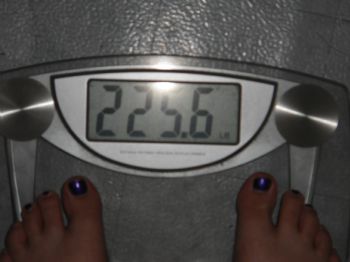 (My scale needs dusting and toenails need re-polising; both will be fixed for next time!)
I've stopped eating junk food and have been cooking more meals at home with a special focus on including lots of fruit or veggies in every meal. I've also been walking every opportunity that I get, and even with just these small changes, I'm already feeling a million times better.
I knew that one of the key steps to reaching my goal weight of 150lbs is to eat well, but I recently realized that I don't really have a complete understanding as to what that means. Sure, I could follow someone's 'eat this, not that' diet, but without a thorough understanding as to WHY and the nitty-gritty on how it works, chances are that it's not going to mean much to me and I won't be able to follow it for long. What does "eating well" mean to ME? I have to find out.
Once I got it into my head that I wanted to learn about how different foods components are used by the human body and what effects they have, I decided to do a little research. I made a trip to the library and checked out all the non-diet-specific materials I could find on good nutrition and strategies for long-term weight loss so I could educate myself on what, why, and how to do it properly: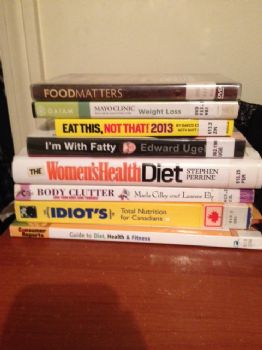 So far, I've watched the "Food Matters" DVD, which outlines the importance of consuming lots of raw fruits & veggies and allowing the body to heal itself naturally vs. taking man-made pills and other toxins. I've also started reading and am in the fourth chapter of "Body Clutter", which follows two women's personal journeys and strategies toward eliminating the body 'clutter' they've acquired throughout the years (much like spring cleaning). Reading about other peoples' struggles and successes is so inspiring!
I think I'll be delving into "Total Nutrition For Canadians" next, because even though I have a rough idea right now of what I ought to consider 'good' and 'bad' food, I have no idea what I'm basing my opinion on because I really don't understand how food works once it's in my system.
If anyone has any suggestions on healthy lifestyle 'how-to' guides for future reading/watching, I'm all ears!
A large part of my renewed motivation to get back into healthy habits once again came from an unexpected source: looking through old photos on my computer. Most of the ones of me had been taken when I was in the 180-200lb range and I looked so much skinnier, healthier, and happier than I do right now. Seeing the images of the "past/lighter" me was very inspiring - I realized that since I'd been at that weight once and worn it well, there's absolutely no reason that I can't get there again. Skinner Jenn might have gotten lost for a little while, but she's only a few healthier choices away and it's time to bring her back!
I'll be back in ONEderland by December 31st, if not sooner. You'll see.