Sparkpeople knows I'm in Korea
Tuesday, March 12, 2013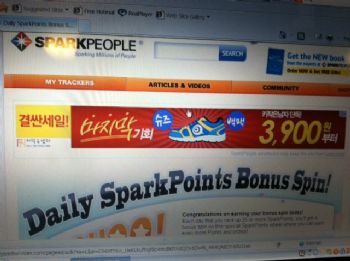 Greetings from Korea. Apparently SparkPeople knows I'm here too since my advertisements are in Korean. (Yes, I know the advertisements are based on IP addresses and mine is currently in Korea).
I like the Sparkpeople app even more now. While I'm in Korea I'm using my phone in wireless only mode. While I was at the chow hall (which has no wifi available) I decided to enter my breakfast. I wasn't sure if it would work since I've usually got my cellular data service turned on. But it did. I entered my food and then synced once I got back to my room and had wifi service again. Nice feature.
I arrived in Korea a few days ago and I'll be here for a couple weeks. Don't worry about all the rhetoric being spewed by the North right now. They do it every time there is an exercise and it gets pretty tiresome. And this has been going on for decades at least 3-4 times a year without fail.
A very quick update before I go run to the gym. The job with my reserve unit is still moving forward. There had been some question about that with a hiring freeze that was enacted due to sequestration. But they got a waiver for me. But the government hiring process is ridiculously slow. In my case I'm glad though. I still want to make it as close to the end of my kids' school year as possible before going back to work.
The kids have reached 71 and 72 miles with running club. I've booked our trip to Disneyland (their reward for reaching 75 miles each) for Spring Break. I'm now sure that both kids can reach 100 miles by the end of the year if I can keep going to running club with them on M,T,Th,F mornings. That's the #1 reason I want to make it to the end of the school year without going back to work. I want the kids to get 100 miles.
Speaking of 100 miles, I'm going to go run to the gym now. Honesly, I shouldn't... I've got achilles tendonitis still, but I've got a fitness test to take in April and I want to get an excellent so I can not be tested again for a year. I will stop running for a while and try to rehab it at that point.