I'm not quite sure what to name this blog. Maybe, its subtitle should be that being a keen and able cook does not protect you from kitchen failures. And I had one of epic proportion last week!

I bought myself a magazine called Cook Vegetarian and saw a recipe I was really keen to try straight away: Aubergine No Meat Meatballs.
So off I trotted to buy my ingredients then eagerly prepared my aubergine meatballs.
Here is the recipe as written in the magazine:
Serves 4
Ready in 45 minutes
A few splashes of olive oil
2 aubergines, cut into small cubes
1 smallish onion, finely chopped
3 garlic cloves, finely chopped
Juice and zest of 1 lemon
A handful of pitted black olives
1 red chilli, finely chopped
A large handful of fresh basil or 1tbsp rosemary leaves
1tbsp balsamic vinegar
1 mug of breadcrumbs
4 tbsp toasted pine nuts (optional)
1- Place a large frying pan over a medium heat. Sizzle the aubergine and onion in a bit of oil.
2- When they've picked up a little colour and are almost done, add the garlic, a squeeze of lemon juice and grate over a good bit of zest.
3- Tip into a food processor with the olive, chilli, herbs, balsamic vinegar, breadcrumbs and pine nuts, if using. Whiz until everything comes together. Or chop everuthing up on a large chopping board and mix. Season.
4- Taste. Add more herbs or spice if needed. If it is a bit dry, add a splash of olive oil. If it's too wet, add more breadcrumbs. Shape into balls (two aubergines will make about a dozen rounded tablespoon-sized balls.)
5- Fry the balls in olive oil. When browned all over, serve with spaghetti and tomato sauce, or have them on their own.
I followed the recipe to the letter but after I blended all the ingredients together, I ended up with something I can only call slop. I tried adding some breadcrumbs, but no amount of breadcrumbs was going to dry out that disaster of a mix.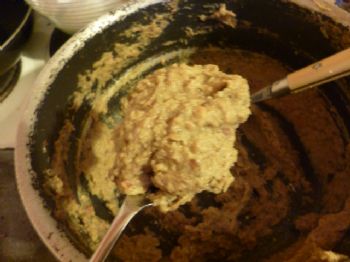 I was determined to salvage this recipe so I decided to put the slop – I mean mix – into my silicone muffin cases and bake them.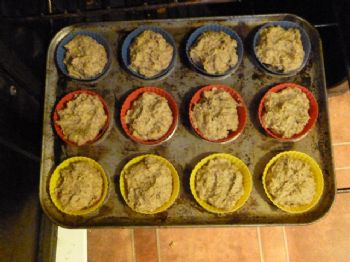 Despite a long baking time, only the outside cooked and the inside was still completely sloppy.
My son and I braced ourselves for absolute awfulness – I mean, if they were going to taste as bad as they looked, we were in for a bad time!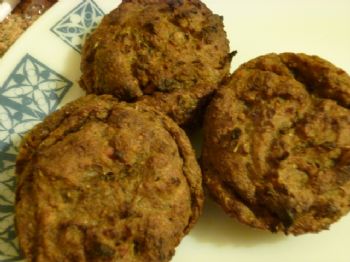 Despite everything, it tasted absolutely… DELICIOUS! We were no expecting that. Which really makes me want to have another crack at this recipe + I'm not used to kitchen fails and I do NOT like them.
So I've been thinking: how would I prepare a traditional meat ball? I'd get my mince meat, my spices, herbs, etc. I'd then mix in bread soaked in a little milk, then bind the whole thing with an egg before cooking.
Well then, I guess I'll have to apply the same system to my aubergine meatballs and blend all the ingredients BEFORE cooking them, and make sure I use an egg to bind all the ingredients together.
I shall not be defeated! I shall try again!! I shall master aubergine meatballs!!

Have a lovely day Sparkfriends!