The Miami Beach 13.1 was my first half a year ago. I had a great run last year, but this year it was even better. The temperature was in my favor for once. Usually I start my races sweating, from the humidity, and that is just waiting around for the gun to go off to start the race. I was in "runner's heaven" on Saturday; the temp was in the high 50's with NO humidity with a slight cool breeze!!!!!
The morning started off a little rough though. I don't know what it is with the 13.1 series half marathons, but I cannot seem to get there on time and there has been gear malfunction at both. I was trying to meet up with a teacher from my son's school before the race. I was on my way and on target to get there on time when the street closures threw me off course and I had to back track and try to approach South Beach from another route. Lost in Downtown Miami and minutes away from start time, 6:13 am, I called my husband in a panic so he could help me find my way. After a few minutes of stressing out, I made my way over to the beach and found a parking spot two blocks away from the start line on the street (lucky, lucky, lucky). I glance at the car clock and notice that it is 6:17; yikes the race has started without me (again). On my warm up run to the start line, I sighed with relief because the race did not start until 6:20.....whew.
Somehow in my mad dash to the start line, I overlooked one major thing (my Garmin). Oh well that was the least of my worries. I had my race #, water bottle, and music; my time would be recorded by the race so no worries. I started off at the back of the pack and for my first mile, I like to take my time and slowly increase my speed by mile 2. Since I did not have my Garmin to constantly look at, I just took in the view and enjoyed my run. I added a few new songs to my phone (love my husband, he bought me the iPhone 5 about a week ago) and boy were they motivators. Thank you Jay Z for making my run so much fun.
Remember I did not have my Garmin so I did not know how fast/slow I was running my miles. I made a mental note of mile one and kept track from there. The miles were flying by. I ran my 10k faster than I have run in a while (59 minutes). I was amazed when I reached the 2:30 pacer and whizzed on by. Caught up with the 2:20 pace and hung with them for a while and decided to keep pushing myself. I even caught up to the 2:10 pacer which meant I had the potential to finish the race around 2:05. I was hanging with the 2:10 pacer for a few minutes when we came upon our 3rd bridge (hills in Miami) and it brought me to a walk. Pretty soon the 2:20 pacer passed me by and I decided to hang with them. I stopped to walk again and I had two ladies encourage me to keep moving because I was their pacer. My feet kept moving slowly over the last bridge.
Yes, it was soooooo nice to run with no humidity. The last 4 miles were tough and I had to slow down to my slow but comfortable "run forever" pace. The course hopped on a path that took us along a marina for two miles and tons of beautiful scenic Miami views. I was too focused to stop and take a picture. Mile 12 put us back on the street and the last water stop before the finish line. I shook my head for the water and kindly asked for the finish line instead. I trotted on nonetheless. I saw the finish line soon and the clock read 2:22:08. Well I knew I had PR'd because I started well after the race did. My official time was 2:17:24!!! Last year time was 2:28. This was a bittersweet finish for me because it was my last half for the season and I was going to collect my Category 3 Storm medal. I earned this medal by running the Ft. Lauderdale 13.1, The ING Miami half, and the Miami Beach 13.1. Now it is picture time!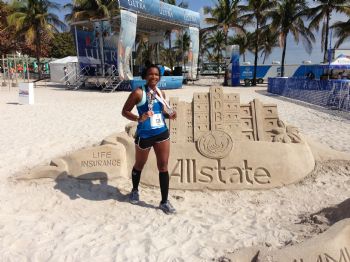 sand display after the race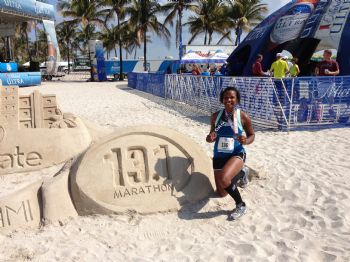 another sand display from the race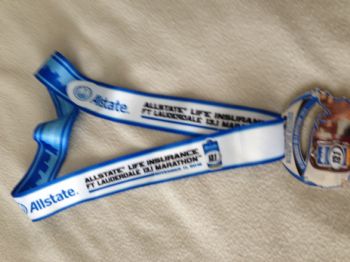 Ft. Lauderdale 13.1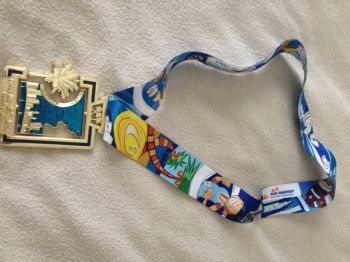 ING Miami one side
ING Miami the other side of the two sided medal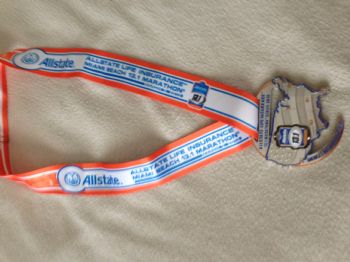 Miami Beach 13.1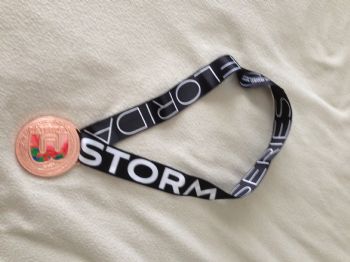 Category 3 Storm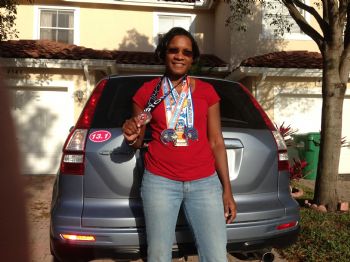 Done. I can take the Storm Series off my bucket list.
Daphne in Miami (Doral)