Monday, March 11, 2013
My friend Joe, rode his bike in from Phoenix for Bikeweek. We got together yesterday to spend the day in Daytona Beach and reunite.
I've known him since childhood and we try and see each other once in a while. While we were there, we took the obligatory pictures of the local saloons and wild activities. When I was going through the pictures, these two shot popped out at me, and I thought they'd be of interest. They are not posed to make my point, they just happened to be in the roll of pics just as they are shown.
It occurred to me that they make the point that we need not be obsessive in our quest for weight control or weight loss. We can enjoy life's little pleasure as long as we pursue them in moderation.
Check this out.
This is me and Joe. I have a beer in my hand.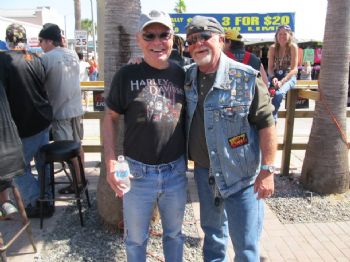 This is me and Joe a little later. I have a water in my hand.
I had a great time and enjoyed life's little pleasures in moderation.
Thanks for reading and have a great day.