This past week has been very hard for me. Last weekend, I had to do a few things WAY out of my comfort zone, and while this is good for me, it caused my stomach to ball up into a knot and I had to step away from my computer and go OCD over making/organizing lists and databases for awhile. You guys know what a nerd I am. Yes, doing monkey work on Excel and/or database programs helps to iron out my brain, use up excess nerves, and calm me down. I discovered this when I was going through my first major relationship breakup when I was fifteen and got through it by folding fliers for the local YMCA for hours on hours on hours. Nerd. Anyway, I managed to get through my week, and while I'm still not back to perfect equilibrium, I am at least slowly returning to social media, and figured I'd write out a post to highlight some of the stuff that has gone on with me while I was away.
1. Yesterday, I cut off 15 inches of my hair to donate to Locks of Love. The lady cutting my hair cut it a bit shorter than I wanted - I'd been expecting to cut off about 12 inches - and now my hair looks a bit like a curly 1920s bob: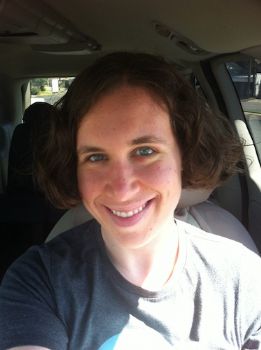 My boys tell me I look like Isabelle from Hugo. :D Of course, in a few days, my hair will get used to the new length - and lack of heavy locks weighing it down - and it will get much, much curlier. It won't look like a bob after that. I'm not sure what it will look like, actually, because I haven't cut my hair in almost three years now, and I've lost 85 lbs since my last haircut. My face is shaped completely differently now! So we'll see. It's cute right now. And it makes me feel younger. :)
2. I have been on flour overload for the past week. Stress, and all that. Thankfully, I haven't gained any weight (whew!), but I haven't lost any either, and I'm okay with that. Now that I've hit 100 lbs gone, I feel like taking a bit of a break - I think I've earned it. In a few weeks, I'll work on losing the next few pounds! On the negative side, my joints - particularly my knees and ankles - have been swollen, inflamed, and very painful for the last week. I don't know if this has to do with reintroducing flour into my diet, but I do know that flour and joint inflammation have been linked, and that makes me question if the two are related. It's possible they're not - for all I know, it's because I've spent too much time sitting down staring at all my lists and databases and not moving around - but I do suspect the flour. I should have eased into it more slowly. And unfortunately, with my joints all painful, I haven't been able to do any real exercise for over a week now. Boo. I really can't wait to get back to my walks and runs!! The weather is perfect out right now, and I want to spend as much time outside as I can before the 100-degree days start hitting next month.
3. At my youngest son's birthday party on Saturday (he turns 9 on Wednesday), my dad asked me where I set up the pull-up bar he got me for Christmas. I pulled it out and showed him out it worked. Up until that day, I had only been able to do a single full pull-up, which was already more than I could do at the beginning of the year. On Saturday, however, I did a full pull-up AND THEN WAS ABLE TO DO ANOTHER HALF A PULL-UP WITHOUT A BREAK IN BETWEEN!!! WOOHOO!!! I know this is another geek-me thing, but GUYS I love pull-ups and I'm getting SOOOOO close to my goal of being able to do 5+ of them again!!
4. Tomorrow, I will be on Sparkradio!! I'm *really* nervous about hearing my interview, because I felt like I was tripping all over myself while trying to answer questions that I hadn't prepared for. But I hope y'all will listen to it!!
5. I am so relieved that Daylight Savings Time is here. The four months of jet lag are over!!
6. There's a sixth thing to tell, but I think I'm going to wait until tomorrow and let it have it's own full post. Preview: It has to do with chocolate. :D In the meantime, I'll leave you with another haircut picture, this time with my little boy who is about to turn the last single digit age we have left in our household...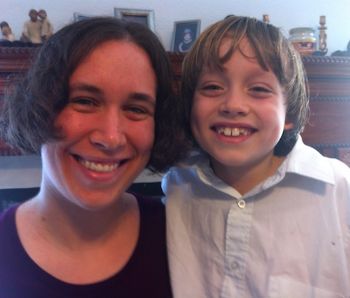 So....what's been happening with all of you while I've been gone for the last week?