Sunday, March 10, 2013
So it has now been a week since I started watching what I eat on my so called "chemical diet". (I call it that because I am eating "TV dinners" for all my meals for the convenience of calorie counting . . everyone knows those things are not made from natural stuff

)
When I started this, I was at 333 pounds. Had I been smart, I probably would have taken a picture of the scale at that time. But to be honest, I was not very happy about it, and was more upset/embarrassed by that weight - which is what prompted me to do something about it.
Well after one week, I can reveal what the scale said this morning: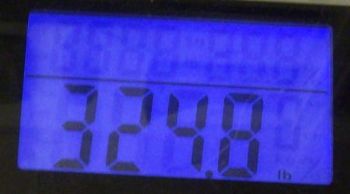 So there has been some progress. I will keep this up for another week and see what happens. I really only plan on 3 to 4 pounds a week. But I am not complaining if a bit more were to drop off.

I believe I will also start taking pics of myself too. This way maybe I can have a visual of change. I do realize it will probably take a month at least for any real noticeable change to occur (at least to my eyes). We will see how I feel about that in the coming days.
Anyways . . that is all for now.
till next post!
C-Ya!