Sunday, March 10, 2013
So many things going on lately, ended up taking my dad to the ER friday night, something just wasn't right about him. He's been walking into walls more than usual, he normally does sometimes because he lost a hamstring in his right leg due to a massive tumor about 16 years ago. Plus his heart rate have been too low, and blood pressure moderately high. They were suppose to up one of his medications to straighten that out, but haven't yet. But 95% sure they will now, and they added a new medication for low thyroid for him. He didn't get home with us until yesterday late afternoon. They kept him overnight to monitor him. He's looking a little better, but needs to wait until Monday for the increase in one of his heart meds. I feel so bad for my dad sometimes, he's only 55 and has to take around 20 pills a day. It often stresses me out worrying about him and the rest of the family, plus what I am trying to do. My husbands dad isn't much better off, only about half the medication amount, but he is 88, so at least he has an excuse for not being able to walk well, or talk well, or eat well. So no exercise since Friday afternoon, going to make today a full rest day if possible and really keep an eye on my dad. My dad still wants to move into his own apartment again, but lately I'm wondering if that is a very good idea with how hard it is for him now. Plan is to resume full workout schedule tomorrow. Finally got a note from the march into spring challenge, so my new team for that is "Sprouting Hollyhocks" which will add to the fun of all the other challenges I am trying to do. Despite my overly busy schedule, been mostly finding time to exercise and eat right the best I can. Just wish I could do more not just for me but my family too. The weather is starting to warm up a little around here, although it is raining today and tomorrow. On friday, I went for my first walk with my 2 year old since early December. So nice to get out in the fresh air. I managed to walk my first mile in 17.5 minutes and second mile leisurely for the enjoyment in 21 minutes. Much better than what it was when I first started spark, although I have lost 1 minute on my first mile since I stopped doing outdoor walks in December. Back in September it took me 30 minutes to walk one mile, so this is still nice. Well I guess enough blabbing for a bit. Just missed blogging most of the week. It's actually quite nice to write down my worries, my accomplishments and how I'm feeling and people understanding or trying to understand. Oh and good news I have lost 1.6 pounds last week despite the hectic week. YAY!
Wishing everyone a fantastic and blessed Sunday.
This is a hollyhock I had to look it up to find out lol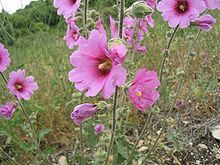 And because I very much need it this week some more of the wonderful motivational photos: