On the way into Kirkenes, which is as far north and east as we go, we ran into broken ice. The harbour was full of it.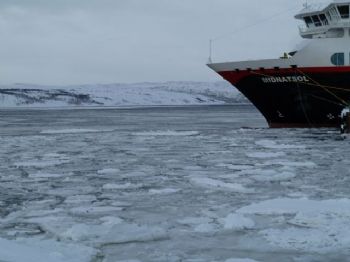 It was definitely taters!!
(translation... Taters = Taters in the mould = cold)
Here we were offered a bathe in the Arctic Ocean, but unfortunately I didnít think to pack a swimsuit, (damn!!!) so I declined the treat.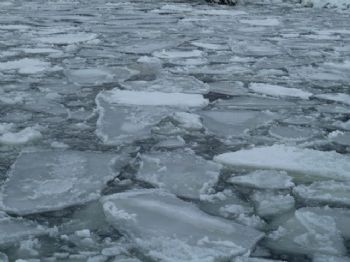 Straight after breakfast, we were in our bus, and off into the snowy wastes again. Food on board is plentiful, and mostly delicious. Breakfast and lunch are both buffets, lots of fish, pickled, poached and raw. Crab, lobster and langoustine. Fruit, cereal, salami and ham, cheeses and biscuits. Meat is usually venison, reindeer actually. Lunch includes hot dishes and salads, and about half a dozen different cakes and desserts! Which I have taken full advantage of, Chicchantal is going to have to walk my legs off when we get home! She has been warned! Dinner is three courses, and proper good restaurant quality. Again plenty of fish and venison.
Kirkenes is a pretty town, full of the usual wooden houses.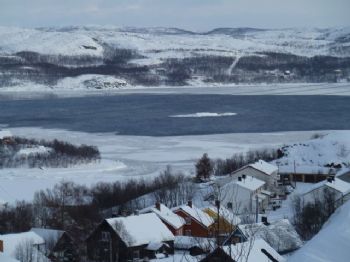 They are attractive, but they all look similar, mostly two story and very few larger buildings. They have an unfortunate vulnerability to fire, so very few are more than 30 years old. They seem to burn down and be replaced on a regular basis, plus the Nazis razed the entire county of Finmark, that used to be called Lapland, when they left.
Rainbowchoc left a comment on a previous blog about Trolls hiding under bridges. Well the Norwegians are less proud of their trolls than the Icelanders are, but we were glad to see this field full of troll mints on the way out into the wilderness.
You will see that they seem to prefer the white peppermints, unlike the Icelandic trolls which prefer the green spearmint ones. Unless of course they ate all the spearmint ones first.
At the Russian border, Norway is less than 1km wide! Up to a couple of years ago you were forbidden to take photos of the border post, but things are a little more relaxed now. These are the Russian and Norwegian border crossings, the Norwegian one is hidden in the trees. The man by the sign is purely random, and nothing to do with us!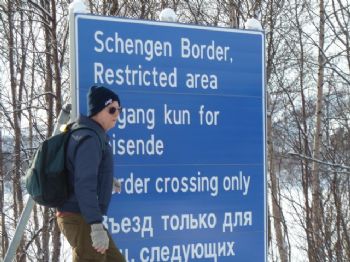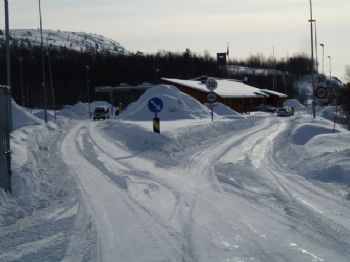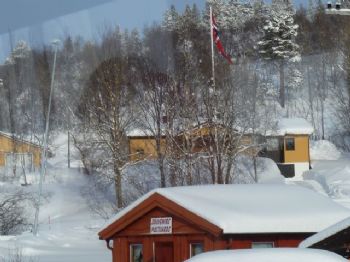 We stopped briefly at a viewpoint on the way back for a photo opportunity, but I hate lining up to take the same photo as everyone else! Feels too sheep like! So I turned round and took this one of an ice waterfall instead. Nobody else even noticed it.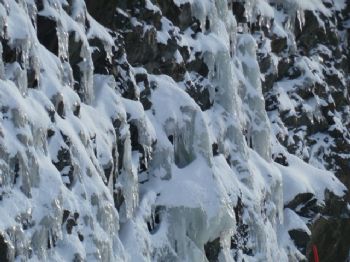 For the last two evenings we have seen the Northern Lights, both times in the middle of dinner! So we have abandoned dinner and gone up onto the top deck. DD is the proper photographer, and she has taken a lot of pictures which she has still to download. So that blog is a work in progress!